Salla
Close to the Russian border and surrounded by snow-covered wilderness, Salla is a perfect Aurora hunting spot.
About
Above the Arctic Circle in Finnish Lapland and close to the Russian border, the charming village of Salla is an Aurora retreat hidden amongst the snowy fells.
Salla is split into a small ski resort with residential areas scattered around and is perfectly located above the Arctic Circle for potential Aurora displays. Its fantastic location means that everything is within easy reach, from your accommodation to your activities to the nearby ski slopes, adding to the convenience of your time away.

Speak to our Aurora Experts
01670 785012
The birthplace of skiing
It is an area steeped in culture, spanning from pre-history, through to World War ll and the modern day. When you talk to the locals, it's clear to see how passionate they are about Salla and its incredible heritage and envious natural backdrop. One of the village's proudest associations is that Salla is supposedly the birthplace of skiing, with the world's oldest skis being uncovered here, dating back to 3200 BC.
The emphasis in Salla is on enjoying the pristine wilderness and surrounding nature. The Tunsta Wilderness Area surrounds the village, covering 212 square kilometres and the nearby Oulanka National Park is one of the most significant protected areas in Finland, due to its variety of plants, mosses, lichens and fungi. These untouched lands spread into the distance with seas of forest stretching out like a pine-covered carpet; snow-laden fields and iced- over marshes glisten in the Arctic light and the tranquil silence is only broken by sounds of nature.
Adventures in the snow
There is a range of winter activities to take part in, from Aurora hunting by snowshoe, or in a reindeer-pulled sleigh, to dog sledding through the wilderness and snowmobiling to the Russian border. Whichever activity you choose, they all allow you to experience the thrill of Arctic Lapland in all its glory.
Salla is a thriving village surrounded by an expansive winter wilderness which is the playground for a fantastic array of winter activities. The excellent ski slopes allow you to combine Alpine pursuits with Nordic and beyond the pistes, wonderfully dark skies make Salla the ideal Aurora hunting destination.
With everything you need in close proximity, we offer you an all-encompassing experience of Salla with a focus on searching for the Northern Lights in one of the best destinations possible.
Photography by Vastavalo/Marko Junttila/Visit Finland, Sallatunturin Tuvat, and Upi Virkkula
Read more
Read less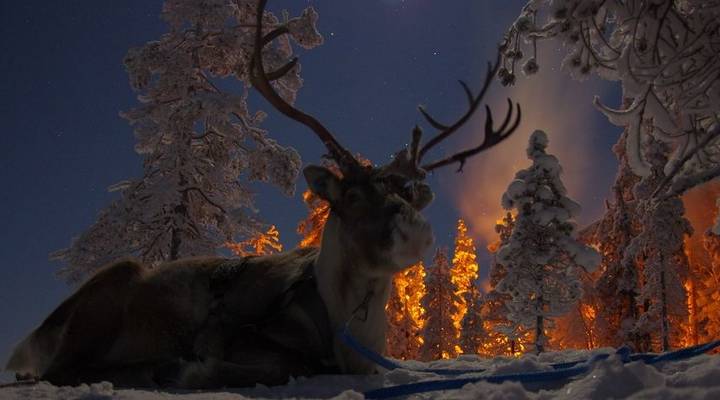 Holidays
Accommodation