Aurora Dome
New and original glamping under the Northern Lights
We are thrilled to offer our guests the chance to watch the Aurora Borealis doing their mesmerising dance across the Arctic firmament from the unique vantage point of their own Aurora Dome.
These unique and purpose-built Aurora Domes have been crafted for Torassieppi Reindeer Farm and Cabins, one of our favourite destinations in Lapland. There are additional Aurora Domes at nearby Jeris that clients may also be allocated to depending on availability. The Aurora Domes mean that we can now bring our guests the chance to experience a night of unforgettable 'Aurora glamping' in the most spectacular of settings.
The two exclusive Aurora Domes combine Aurora viewing potential with a truly experiential night's accommodation and The Aurora Zone are proud that our guests will be amongst the first people to enjoy their delights.
About Aurora Dome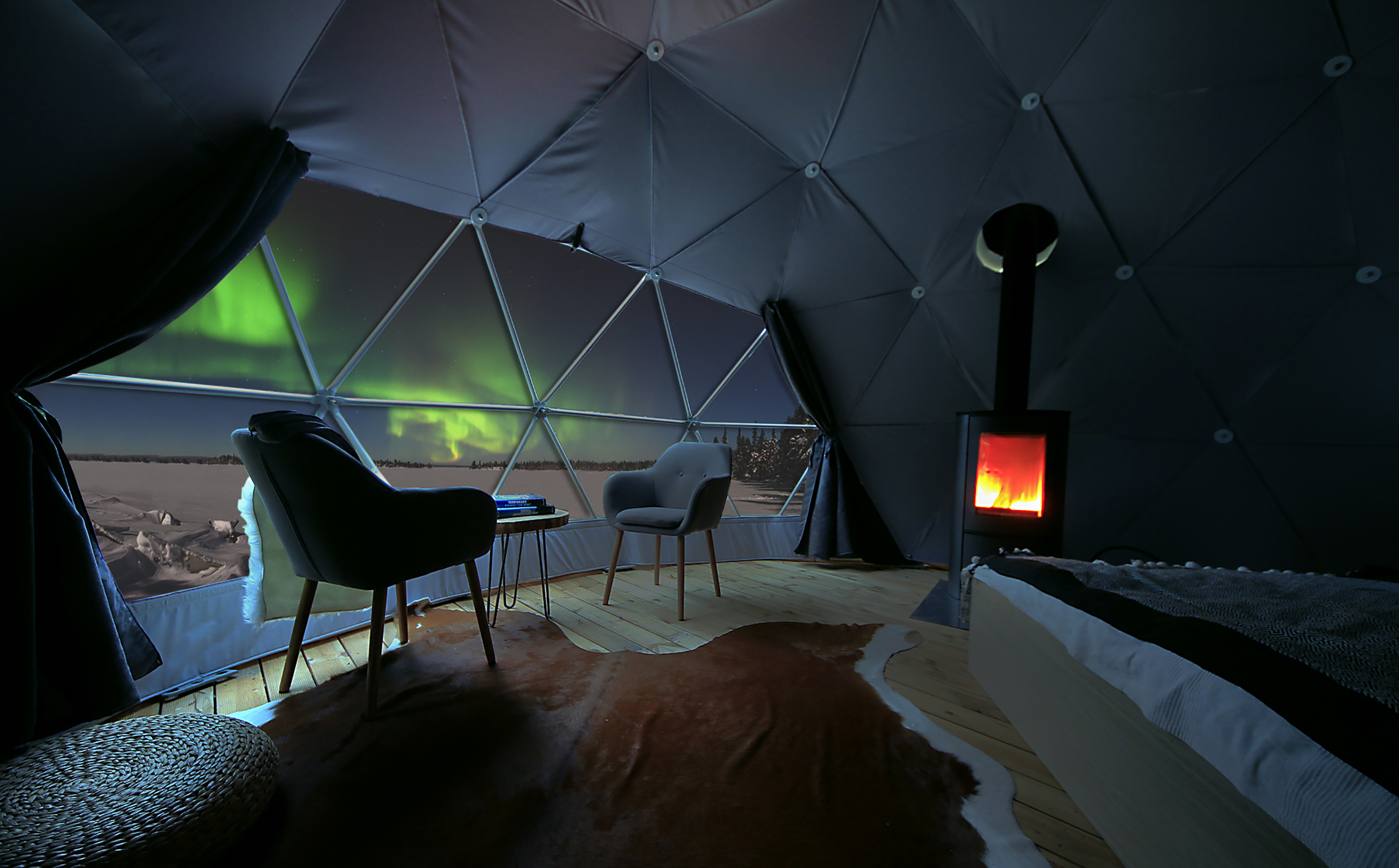 Discover the Aurora Domes
The domes are situated on the shores of Lake Torassieppi and Lake Jerisjärvi, destinations which fall in the heart of The Aurora Zone, far from any light pollution. The night skies here form the perfect backdrop for any display of the Northern Lights, so where better to place the Aurora Domes.
The insulated domes are effectively large tent or yurt-like structures which have been modified for this remote environment and to provide their inhabitants with the best possible views of Nature's greatest light show. The Aurora Domes are circular in their shape, echoing the traditional design of an igloo but taking things to a whole new level.
In an Aurora Dome, guests can relax in their home comforts and bask in the warmth of their wood burning stove. The cosy double bed looks out across the landscape and sky, courtesy of the clear panels which have been ideally placed for just this purpose. Each of the domes has been created with a focus on either huskies or reindeer in the furnishings and has been decorated accordingly.
Read more
Guests have access to the sauna and washroom facilities which are situated around 50 metres away from the lakeside camp. The Domes manage to provide a sense of adventure whilst maintaining a wonderful level of comfort.
A night like no other
Imagine heading in from the crisp, Arctic air to enter your Aurora Dome, the lamps giving off a subtle light as you gaze straight out across a glistening frozen lake before your attention is drawn to the vast sky above.
Imagine unwinding in this secluded spot, surrounded by home comforts, tucked up warmly in your large double bed watching the Aurora Borealis shimmer in front of you. What a way to spend a night!
This experience can be added to our holidays at Harriniva and Torassieppi as either an upgrade or as an additional night to your holiday. Contact our Travel Experts for a complete quotation and enjoy the Aurora Domes in all of their glory this winter.