Overview
Wilderness Hotel Inari enjoys a wonderful location on the shores of Lake Inari in the far north of Finland. It is an ideal spot for Aurora seekers as it combines breathtaking views, Narnia-esque landscapes and wonderfully dark skies. We include a range of dedicated Northern Lights hunts including a thrilling chase via snowmobile into the snow-covered forest. You will also enjoy a collection of our most popular winter activities, including a snowshoeing hike, a reindeer encounter and a dog sledding safari.
What's included?
ALL OF THE ACTIVITIES AND SERVICES LISTED BELOW ARE INCLUDED IN THE HOLIDAY PRICE
Flights: direct return flights from London Gatwick to Ivalo. Flight routes are subject to change
Transfers: return airport transfers
Accommodation: 4 nights in twin/double hotel room
Meals: 4 breakfasts, 3 lunches and 4 dinners
Clothing: Cold weather clothing for the duration of your stay
The following activities are included in the holiday: dog sledding, reindeer farm and ice fishing, snowshoeing, Aurora snowmobile safari, Aurora camp, Aurora hunting by car or minibus (the order of activities is subject to change)
Fully qualified guides and instructors during activities
Aurora alert until approximately 1 am
---
Lake Inari is a mystical and spiritual place, particularly for the indigenous Sámi people. Wilderness Hotel Inari is located on its shores, in the very far north of Finland, and it is no surprise that some otherworldly Northern Lights displays have been witnessed here which have contributed to the legends and myths surrounding the Aurora.
Scientifically speaking the location is ideal. It is 250km above the Arctic Circle and the remote location ensures that there is very little light pollution. The lake freezes in winter and the vast outlook offers unobstructed views of the northern sky. These conditions contribute to spectacular Auroral displays and we have made sure to include dedicated hunting opportunities with local and knowledgeable guides.
During your holiday you will hunt the Northern Lights from the cosy warmth of a minibus or car, enjoy a thrilling snowmobile chase and visit a strategically placed Aurora camp, which is located on the southern shores of the lake.
No trip to Lapland would be complete without exploring the pristine winter landscapes which surround the hotel. Most of us have only seen snow like this on television, but in reality, nothing can prepare you for the crispness of the air and the magnificent sea of white which stretches out on the frozen lake. This picture-perfect, winter backdrop is an ideal setting for a host of our most popular winter activities.
Read more
Your daytime activities include a combination day where you visit a local reindeer farm and then drive via snowmobile to the frozen lake for some ice fishing.
You will also have the opportunity to immerse yourself in the pristine winter environment with a snowshoe hike into the snow-covered forest.
Sled dogs are synonymous with this region and a safari is one of those bucket list activities which never fails to blow our clients' minds and your dog sledding adventure is sure to be a holiday highlight.
---
Image credits: Inari-Saariselkä Tourism Ltd, Matt Robinson, Visit Finland and Jorma Luhta Leuku
View Gallery
Download Dossier
Key facts
| | |
| --- | --- |
| Duration: | 4 nights |
| Pace: | Active |
| Suitable for: | Ages 15+. See our terms for further information |
Make an enquiry
Agenda
Accommodation
Included in price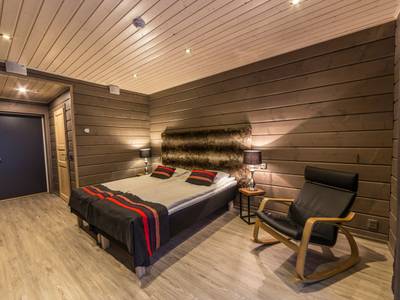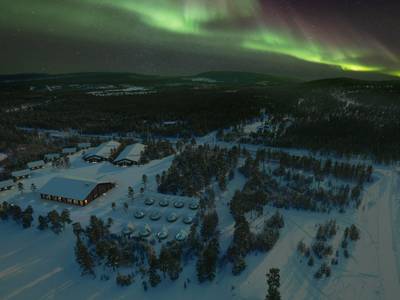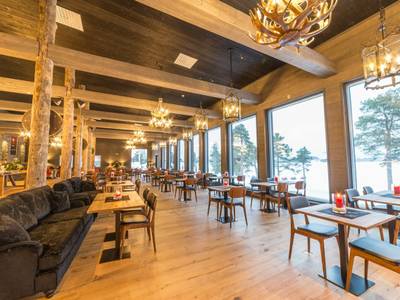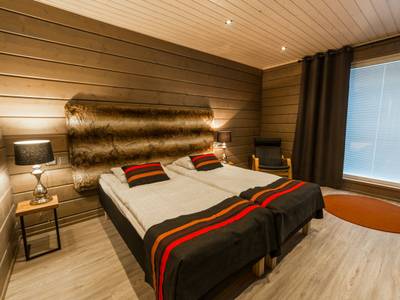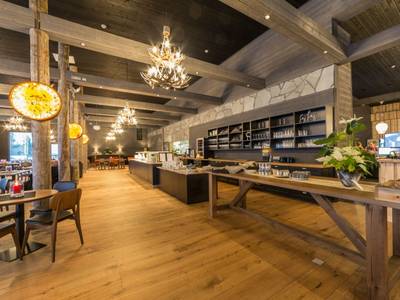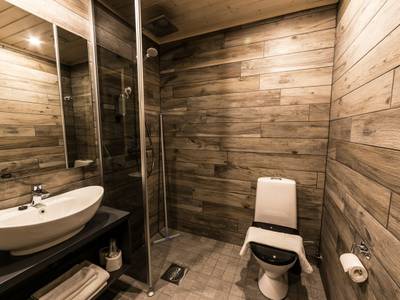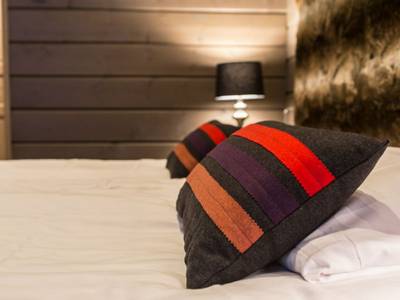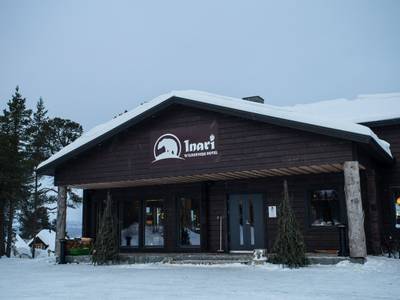 Wilderness Hotel Inari
Nights:
1-4
Situated on the shores of Lake Inari, Wilderness Hotel Inari combines comfort and tradition and is set to become a huge Aurora Zone favourite. It probably also helps that it is slap, bang in the middle of some of Northern Scandinavia's prime Aurora hunting territory!
The hotel provides warm and comfortable accommodation in 40 "Wilderness" bedrooms, 8 log cabins and 12 Aurora cabins.
The hotel is just a 40-minute drive from Finland's most northerly airport and five minutes from Inari Village, the heart of Sámi culture in Finland. Most importantly perhaps is that the density of population here is very, very sparse so there is virtually no artificial light pollution.
Hotel facilities
All accommodation is situated within easy walking distance of the central reception, bar and restaurant building
Restaurant Hirvas is where your meals will be served during your stay. With Lappish cuisine at the heart of the menu, you'll be well set for a day and night of activities. All meals are served in a buffet style and include local and seasonal produce where possible
The restaurant is Lappish themed with fantastic north facing panoramic windows running the length of the room offering views out onto the frozen water of Lake Inari. We fully expect a few meals to be abandoned over the course of the winter as the Aurora becomes visible during dinner (the chefs get used to it)!
The Saivo Bar is part of the restaurant and is fully stocked so you can enjoy a drink with your meal or relax in the lounge area by a roaring fire
Free Wi-Fi is available
Room Type
Wilderness Rooms
'Wilderness room' is perhaps a bit of a misnomer because these bedrooms are anything but wild or basic. The rooms are located in two separate buildings just around 50 metres from the main building which houses the restaurant and reception.
Each room has been decorated in a traditional Arctic style with the theme taken from the surrounding environment. They are around 30m² and have either a queen-sized bed or twin beds.
Coffee and tea making facilities are provided in your room as well as either a comfortable sofa or two armchairs. If you can't face being detached from the "real world", the rooms also come with free Wi-Fi.
Every "Wilderness" bedroom is en-suite (with bath and separate shower) and comes complete with hairdryer and toiletries.
These rooms are designed for two people to share but a third person can be accommodated on a camp bed or pull-out sofa (supplements apply).
---
Image credits:

Inari Wilderness Hotel, Matt Robinson
Read more
Read less
---
Other options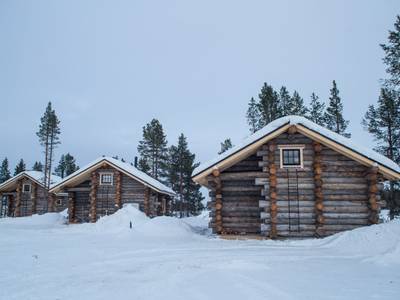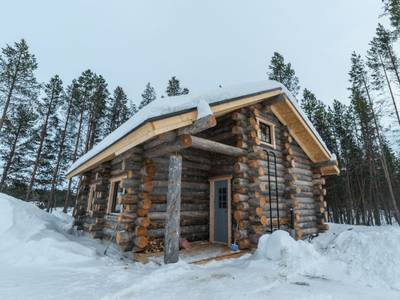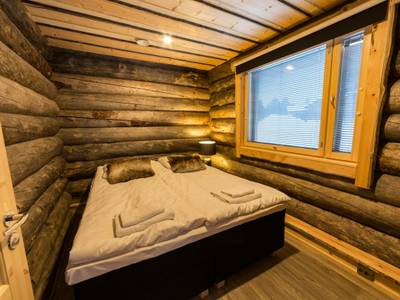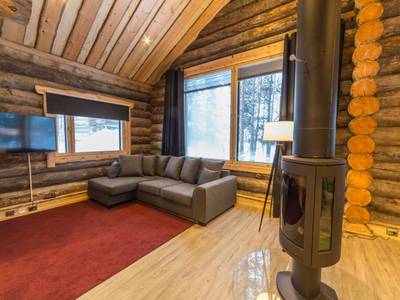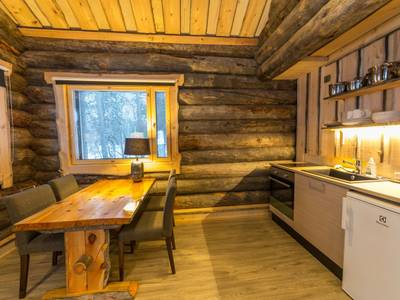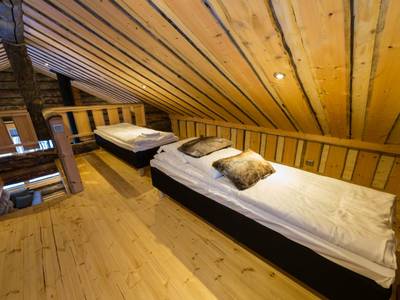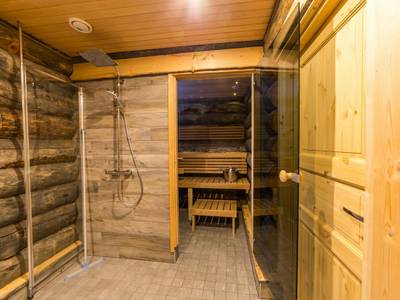 Wilderness Hotel Inari - Log Cabins
These cosy cabins are built in the traditional way, with walls constructed from huge logs and plenty of space inside. The ground floor covers 70m² and the loft area offers an additional 20m².
On the ground floor, you'll find a spacious dining/living room, comfy seating, and a wood burning stove as well as the main bedroom with a queen-sized bed. There is also a kitchenette and dining area, although all of your meals are provided in the restaurant. The cabins also provide free Wi-Fi.
The bathroom and toilet (hairdryer and toiletries are provided) are also on the ground floor and the cabin comes with the luxury of a private sauna.
The loft area upstairs can accommodate three more single beds and, thanks to the pull-out sofa in the living area, the capacity of these cabins ranges from two to six people. They are ideal for couples looking for a very romantic hideaway or for small groups of friends or family.
The cabins are between 10m and 100m from the main building. There are cabins with lake views and these do come at a supplement. Please ask one of our Travel Experts for a quote.
---
Image credits: Wilderness Hotel Inari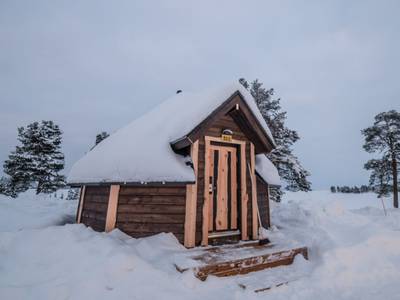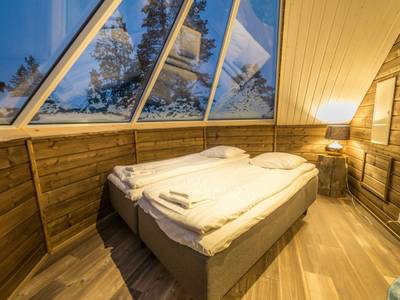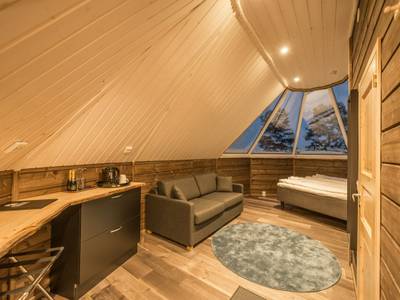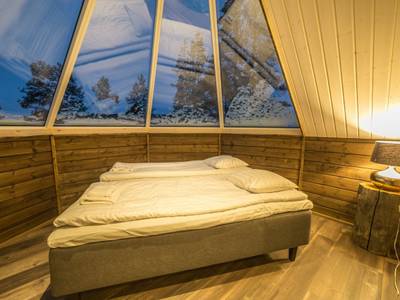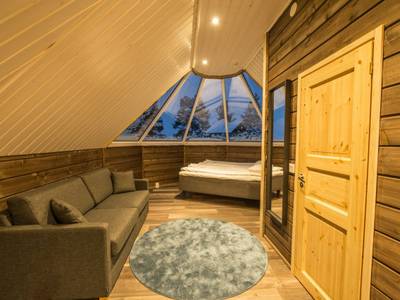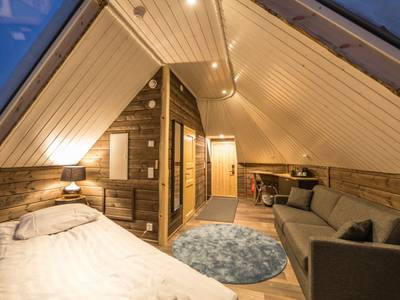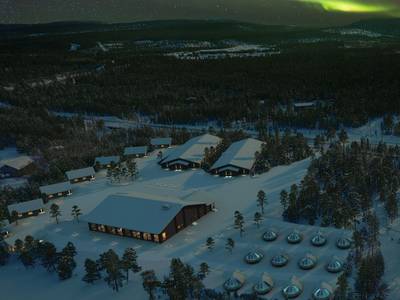 Wilderness Hotel Inari - Aurora Cabins
Wilderness Hotel Inari's Aurora cabins are something else! The big selling point here is the expansive thermal glass roof with unobstructed views of the northern skies. The thermal glass helps to provide an uninterrupted view (even at the lowest temperatures) which means you can actually lie back in bed and keep an eye open for the Aurora Borealis!
These cosy cabins have twin beds (which can be pushed together in most cases), a sofa or armchairs in the small living area and an en-suite shower room (toiletries and hairdryer are provided). It is also possible to add an extra bed or, with a bit of a squash and a squeeze, beds. The cabins are 34m² in size.
Coffee and tea making facilities are provided and free Wi-Fi is included so that you can keep checking those Aurora websites for updates.
The cabins are between 20 and 50m from the main building. There are cabins with lake views and these do come at a supplement. Please ask one of our Travel Experts for a quote.
---
Credit: Wilderness Hotel Inari, Matt Robinson
Dates & Prices
Price Comparison Guarantee
Expertise and knowledge are key to witnessing the Northern Lights. We've been running Aurora hunting holidays longer than any company in the UK and with no lead in prices, no hidden costs and more included, we're confident our tours will come out on top.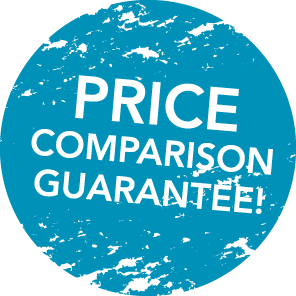 Prices
Terms
For our full booking terms and conditions please click here
Holiday group size (approximate)
Minimum 2 people, maximum 24 people (approximately)
Group sizes and minimum numbers
Most of our holidays require a minimum number of participants to operate. Minimum numbers are detailed on each holiday page and are always approximate. Group sizes for tailor made holidays will vary for each of the activities. For private departures you may also be joined by other guests during the activities unless you have discussed specific private activities with us.
If your selected date has not yet reached minimum numbers you will be informed at the time of booking. In the unlikely event that your chosen date has not reached the required minimum numbers nine weeks before your scheduled departure date we will contact you and discuss the various options available to you. We will always do all we can to operate a holiday and in some cases we may be able to operate the holiday by combining your itinerary with that of other guests for some activities (this may mean that the maximum group size is increased but this will be discussed in full with you).
If we are unable to operate the holiday then you will be offered the chance to transfer to an alternative holiday or date (subject to availability). If the alternative is more expensive you will be asked to pay the difference, if it is cheaper then you will be reimbursed. You will also be offered the option to cancel and receive a full refund of all monies paid.
See our booking conditions for further information.
Order of activities
The order of activities is always subject to change and you will be provided with your final itinerary upon arrival at your destination
Medical History and advice
If you or any member of your party is pregnant or has any medical condition or disability which may affect your holiday or has any special requirements as a result of any medical condition or disability (including any which affect the booking process), please tell us before you confirm your booking so that we can assist you in considering the suitability of the arrangements and/or making the booking. In any event, you must give us full details in writing at the time of booking and whenever any change in the condition or disability occurs. You must also promptly advise us if you become pregnant or any medical condition or disability which may affect your holiday develops after your booking has been confirmed.
See our booking conditions for further information.
Experience and fitness
We offer a vast choice of holidays which range from 'relaxed' to 'active' so there really is something for everyone and our holidays can be filtered by how active they are. Regardless of the chosen holiday, all activities will include tuition from a beginner's lever and no prior experience is assumed.
If you are unsure about the physical demands of a particular holiday please contact us and our expert team will be happy to help.
See our booking conditions for further information.
Guides and safety
It is absolutely essential when partaking in any activity that you listen very closely to, and abide by, the instructions provided.
If there is anything that you are unsure of during a safety briefing or that you would like to clarify with the guides please make this clear to them immediately before starting the activity.
Our guides' word on activities is always final and your safety is their principal concern at all times, please respect their decisions. By following their instructions, your safety and enjoyment during each activity will be greatly enhanced.
See our booking conditions for further information.
Booking activities locally
In almost all of our destinations you can book and pay for additional activities locally. Please note that we cannot be held responsible for any injury or loss that occurs through any activities that are booked in your destination (see our terms and conditions for further details).
Please always ensure that your safety is your primary concern when arranging any such activity.
Car Hire
If your trip includes car hire the named driver must have a credit card registered in their name which they can present when they collect their car along with their driving licence, as a deposit will be held on the credit card. Please see your trip dossier for full details.
Aurora alerts
During your stay, you will be supplied with an Aurora alert. This is typically a mobile phone system to which the staff will send a text should the Northern Lights be sighted. The alerts generally operate until 1 am but it is best to confirm with your guide as times may vary.
The alerts are designed as an aid to Aurora hunting and, although every effort will be made to issue an alert should the conditions seem conducive to a display, things can change very quickly so you should not rely solely on them and should also keep an eye on the sky yourself.
Minimum age
The minimum age for participation in our itinerary is 15 years old, however, for some activities and shared transfers, our guests may be joined by others and these may include those of a younger age. Any younger participants will be fully supervised by an adult and the guides will ensure that they are only able to participate if there will be no effect on the activity experience. None of the hotels we feature have a minimum age and so there may be families staying at them with younger children, especially during the holiday periods.
To drive a snowmobile you must have a full driving licence and be over 18 years old.
Reviews
Traveller Reviews
Couldn't fault anything
06 February 2018
by Michael and Marion Hampel
Couldn't fault anything. Hotel was great. Staff friendly and helpful, food very tasty and rooms clean and warm. Snow suits and boots excellent. Activity guides were brilliant very knowledgeable and informative. Activities were great fun there wasn't anything I didn't enjoy..
---
---