Overview
Deep in the snowy wilderness of Finnish Lapland, just north of the Arctic Circle and close to the sparsely populated Russian border, Salla is the ideal location for a weekend of Northern Lights hunting. Direct flights, cosy winter cottages, endless pristine nature and a fantastic ski centre make it the perfect all-round package for those looking to combine Aurora hunting with thrilling winter activities.
What's included?
Flights: direct flights from London Gatwick to Rovaniemi. Flight routes are subject to change
Transfers: return group airport transfers

Accommodation: 3 nights in a winter cottage
Meals: 3 breakfasts, 1 lunch, 3 dinners
The following activities and equipment are included: Northern Lights snowshoeing, husky safari, Northern Lights reindeer safari (the order of activities is subject to change)
Cold weather clothing for the duration of your stay
Fully qualified wilderness guides and instructors during activities
---
We are experts in our field and the Northern Lights are our passion, which is why we continually strive to pick the best destinations with the best activities and the ideal opportunities to search for the Aurora.
Your time is precious and so we've created this weekend itinerary which makes use of the recently introduced direct flights between Gatwick and Rovaniemi. We've been waiting for just this sort of opportunity to present a new and exciting weekend of adventure in Salla.
We've included two nights of Aurora hunting, via snowshoe and reindeer-pulled sleigh, to maximise your chances of seeing the Northern Lights in an area renowned for its dark skies. You'll also take part in a thrilling husky safari through the snowy forest so that you can enjoy one of winter's iconic experiences.
Arriving in Lapland in the late morning, you'll transfer to Salla, driving deep into the Arctic wilderness, past snow-covered forests, frozen lakes and rolling fells, all of which add to the growing anticipation for the weekend.
Read more
The afternoon arrival in Salla will give you plenty of time to settle in and explore the local area so that you can make the most of your weekend Aurora getaway. During your three nights of Arctic adventure, you'll stay in a cosy winter cottage, in amongst the trees and within walking distance of the main restaurant and ski slopes.
We've made sure to include one free day during your weekend break so that you can tailor your time as you like. Why not make the most of the nearby slopes and enjoy carving down the pistes in an area made famous for the discovery of the world's oldest ski (3200 BC)?
For those feeling more adventurous, you can also add on an action-packed snowmobile safari to the Russian border to experience the stunning, unending wilderness. Alternatively, a day snowshoeing in the fells provides you with enough photo opportunities to fill your memory cards several times over…so remember to take some spares!
Credit: Upi Virkkula & Sallatunturin Tuvat
View Gallery
Download Dossier
Key facts
| | |
| --- | --- |
| Duration: | 3 nights |
| Pace: | Balanced |
| Suitable for: | Ages 15+. See our terms for further information |
Make an enquiry
Agenda
Accommodation
Included in price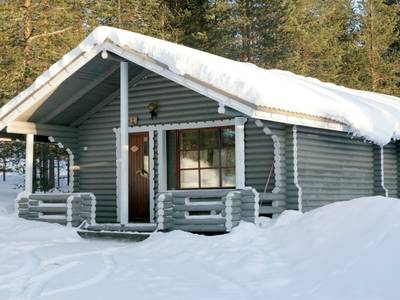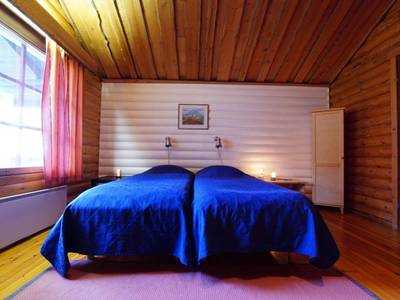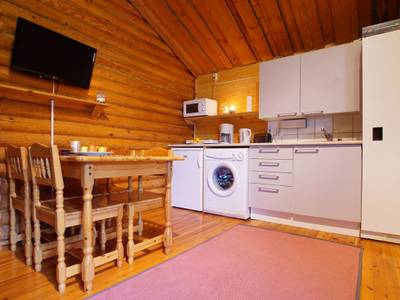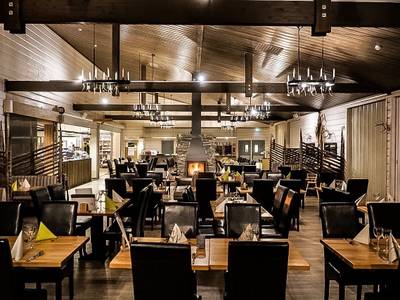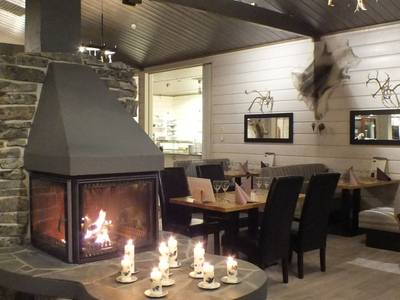 Salla Winter Cottages
Nights:
1-3
Owned and operated by a local family, Salla offers a variety of winter cottage accommodation nestled in the woods and all within walking distance of the various amenities within this small village.
The beauty of Salla is that everything is within easy reach, so for those looking to combine fantastic winter activities, incredible wilderness, traditional wooden winter cottages and even some downhill skiing, this is the place to be.
The winter cottages are traditionally designed, providing a warm and cosy base for your stay and the nearby restaurant and pub are perfect for fuelling up for your adventures or relaxing in the evening.
Facilities
Breakfast and dinner will be served in the Kiela Restaurant, which focuses on local cuisine including reindeer, salmon, whitefish and the much-talked-about speciality, Lapp cheese (or squeaky cheese!)
Relax in the Papana Pupi pub, which is next to the Kiela Restaurant and is the place where most locals and guests mingle on an evening over pool and drinks. Adorned with sports memorabilia, if you take them a football (or even better, ice hockey) shirt or scarf to add to their collection, you will have made friends for life
Make use of the nearby ski hill and cruise down the pistes, or take your first turns with the expert ski school only a few minutes away from your winter cottage
Room types
Winter cottage
These one bedroom winter cottages are only a short walk away from the reception and restaurant, as well as being close to the ski slopes and surrounding amenities. Decorated in a traditional style, each cottage has twin beds which can be pushed together, as well as a shower room with toilet, kitchenette, coffee maker, fridge, washing machine, clothes drying cabinet, TV, radio, telephone and free Wi-Fi. An extra sofa bed can be accommodated in the lounge area.
---
Image credits: Sallatunturin Tuvat
Read more
Read less
---
Other options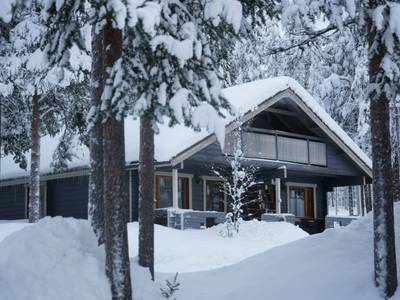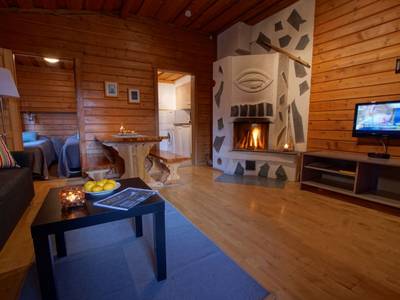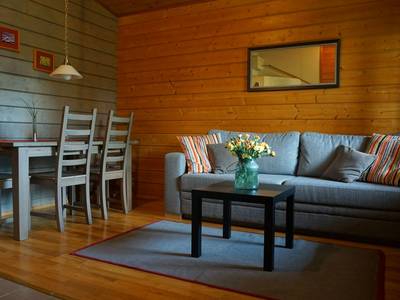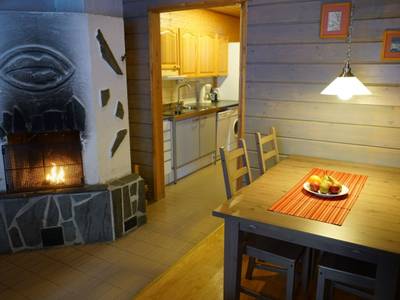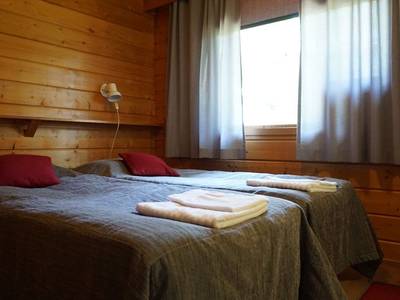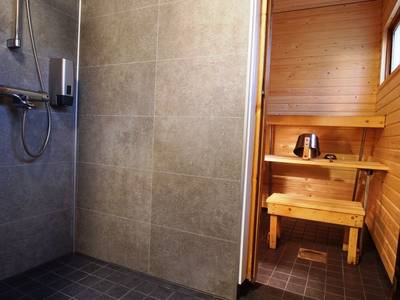 Winter cottage with sauna (34m² and 42m²)
Supplements from: £33pp
If you would like the added bonus of your own private sauna, then these are the cottages for you. Each one is equipped with the same facilities as the standard 25m² winter cottage, except you have the added luxury of a sauna and fireplace. An extra bed can be accommodated in the lounge area and four of these cottages also have a loft space which can fit an extra bed. Firewood is provided for the duration of your stay.
Please note that the images shown are from the 34m² and 42m²cabins collectively.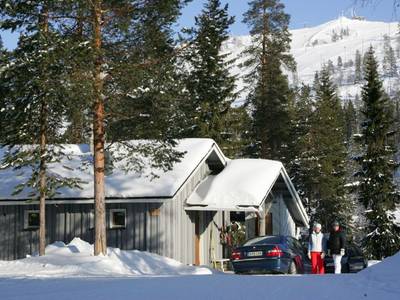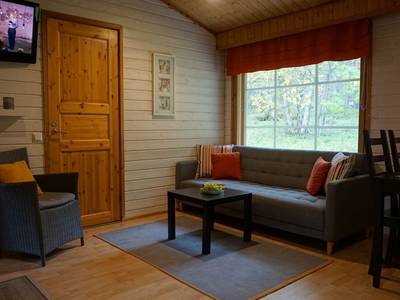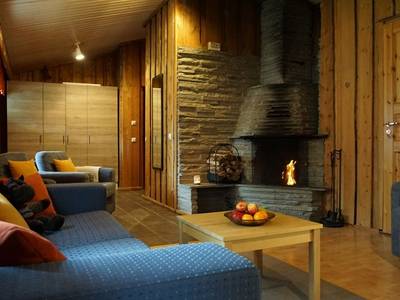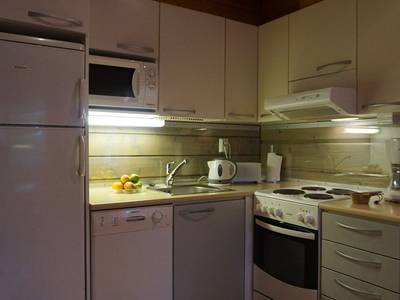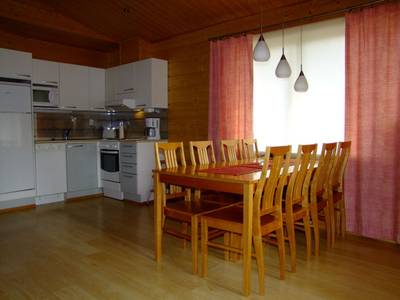 Winter cottage with sauna (two and three bedroom upgrades)
Supplements from: £59pp
For larger parties, there are several two and three bedroom cottages available. These cottages also have their own private sauna and fireplace (firewood included), as well as a kitchenette, shower and toilet, coffee maker, washing machine, clothes drying cabinet, TV and radio. Free Wi-Fi is available in some of the cabins. Extra bed space is available.
Please note that the images shown are from a variety of two and three bedroom cottages.
Personalise
Personalise this tour
---
Our pick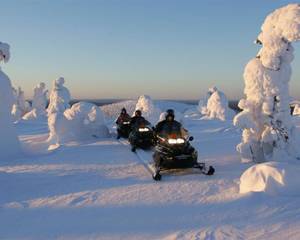 Snowmobile safari to the Russian border
If you're looking for an adrenaline-filled day of fun and adventure, then this is the activity for you.
Your expert guide will lead you on a snowmobile safari deep into the wilderness close to the Russian border. This 60km safari is a full day, strenuous activity, which will last for 5-6 hours. You'll pass through the breathtaking winter scenery of snow-covered forests and fells, over the thick, thick ice of the frozen lakes and into the stunning borderlands.
Read more
You will drive two persons per snowmobile with several chances to swap drivers. Drivers must be 18 or over and hold a full and valid driving licence.
This safari starts at 10 am and finishes at approximately 3-4pm. Lunch is included. The activity is only available on Saturday, which means that you will then start your Northern Lights snowshoe trip at 6 pm.
Image credit: Sallatunturin Tuvat
---
Other options
Activities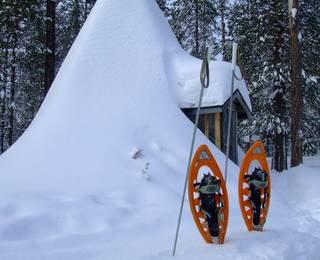 Snowshoeing in the fells
From: £75pp
Transported in a snowmobile-pulled sleigh, you'll travel to the base of the Ruuhitunturi fell where you will start your journey through the forest and to the top of the fell.
Your knowledgeable guide will lead you up the fell where there is often more snow than in the surrounding area and photo opportunities are around every corner. At the top of the fell, you'll be treated to a fantastic view of the wilderness that surrounds Salla. A picnic with hot berry juice will be served before you head back down.
Read more about this activity
The snowshoeing can be strenuous at times, but your guide will make plenty of stops to meet the group's abilities. You will hike for approximately 3 to 4 kilometres.
Duration: 2-3 hours (approximately)
Image credit: Sallatunturin Tuvat
Dates & Prices
Price Comparison Guarantee
Expertise and knowledge are key to witnessing the Northern Lights. We've been running Aurora hunting holidays longer than any company in the UK and with no lead in prices, no hidden costs and more included, we're confident our tours will come out on top.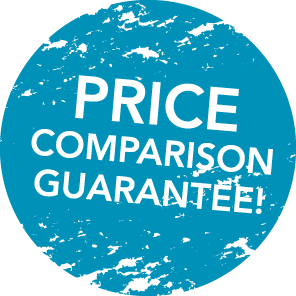 Price per adult: based on 2 sharing a 1 bedroom 25m² winter cottage
Prices
Terms
For our full booking terms and conditions please click here
Holiday group size (approximate)
Minimum 4 people; maximum 30 people (approximately)
Group sizes and minimum numbers
Most of our holidays require a minimum number of participants to operate. Minimum numbers are detailed on each holiday page and are always approximate. Group sizes for tailor made holidays will vary for each of the activities. For private departures you may also be joined by other guests during the activities unless you have discussed specific private activities with us.
If your selected date has not yet reached minimum numbers you will be informed at the time of booking. In the unlikely event that your chosen date has not reached the required minimum numbers nine weeks before your scheduled departure date we will contact you and discuss the various options available to you. We will always do all we can to operate a holiday and in some cases we may be able to operate the holiday by combining your itinerary with that of other guests for some activities (this may mean that the maximum group size is increased but this will be discussed in full with you).
If we are unable to operate the holiday then you will be offered the chance to transfer to an alternative holiday or date (subject to availability). If the alternative is more expensive you will be asked to pay the difference, if it is cheaper then you will be reimbursed. You will also be offered the option to cancel and receive a full refund of all monies paid.
See our booking conditions for further information.
Order of activities
The order of activities is always subject to change and you will be provided with your final itinerary upon arrival at your destination
Medical History and advice
If you or any member of your party is pregnant or has any medical condition or disability which may affect your holiday or has any special requirements as a result of any medical condition or disability (including any which affect the booking process), please tell us before you confirm your booking so that we can assist you in considering the suitability of the arrangements and/or making the booking. In any event, you must give us full details in writing at the time of booking and whenever any change in the condition or disability occurs. You must also promptly advise us if you become pregnant or any medical condition or disability which may affect your holiday develops after your booking has been confirmed.
See our booking conditions for further information.
Experience and fitness
We offer a vast choice of holidays which range from 'relaxed' to 'active' so there really is something for everyone and our holidays can be filtered by how active they are. Regardless of the chosen holiday, all activities will include tuition from a beginner's lever and no prior experience is assumed.
If you are unsure about the physical demands of a particular holiday please contact us and our expert team will be happy to help.
See our booking conditions for further information.
Guides and safety
It is absolutely essential when partaking in any activity that you listen very closely to, and abide by, the instructions provided.
If there is anything that you are unsure of during a safety briefing or that you would like to clarify with the guides please make this clear to them immediately before starting the activity.
Our guides' word on activities is always final and your safety is their principal concern at all times, please respect their decisions. By following their instructions, your safety and enjoyment during each activity will be greatly enhanced.
See our booking conditions for further information.
Booking activities locally
In almost all of our destinations you can book and pay for additional activities locally. Please note that we cannot be held responsible for any injury or loss that occurs through any activities that are booked in your destination (see our terms and conditions for further details).
Please always ensure that your safety is your primary concern when arranging any such activity.
Car Hire
If your trip includes car hire the named driver must have a credit card registered in their name which they can present when they collect their car along with their driving licence, as a deposit will be held on the credit card. Please see your trip dossier for full details.
---
---