Overview
Saariselkä, located 250km above the Arctic Circle surrounded by stunning wilderness, has a fantastic Northern Lights record. At the Northern Lights Village, you can spend the entirety of your stay in innovative, glass-roofed Aurora Cabins, seeking out one of nature's greatest shows from the comfort of your bed. Autumn in this region is quiet, vibrant and peaceful and you can choose from a range of activities, including a hike in Urho Kekkonen National Park, trying gold panning or cruising on Lake Inari.
What's included?
ALL OF THE SERVICES LISTED BELOW ARE INCLUDED IN THE HOLIDAY PRICE
Flights: return flights from London Heathrow to Ivalo via Helsinki (flight routes subject to change)
Transfers: return airport transfers*
Accommodation: a minimum of three nights in a glass-roofed Aurora cabin
Meals: half board
Activities: choose from our extensive range of activities (individually priced as detailed in the activity timetable)
Cold weather clothing for the duration of your stay
* Transfers are based on a scheduled group shuttle to a few nearby hotels. If you would prefer to upgrade to private taxi transfers please ask our Travel Experts for a quotation.
---
Saariselkä is nestled amidst the fells and forests of North Eastern Finland, high above the Arctic Circle. It is a prime location for Aurora activity and the Northern Lights Village offers the ingenious glass-roofed and cosy, Aurora Cabins, which is separated from the town by thick forest. Unlike other destinations where Aurora accommodation may only be for a single night, here, you get to spend the whole of your holiday in one of the cabins. The tailor-made aspect of the holiday ensures that you can maximise your potential for spotting the Aurora by choosing Aurora activities, such as an adventure to the prime viewpoint at Paatsjoki Bridge, which lies close to the border of Russia. In addition, we also offer a range of daytime activities which allows you to explore the autumn landscape and delve deeper into the culture of Lapland.
The Autumn is a particularly special time to visit the Arctic. September is the peak of the Finnish 'Ruska' which is a local term referring to the changing colours of the leaves. The landscapes are bathed in vibrant shades of orange and brown, but as you approach November, you may experience the first snows of winter.
Read more
There is an assortment of activities available which focus on exploring the autumn landscapes. The Urho Kekkonen National Park showcases the very best of the Finnish 'Ruska'. The pine forest and isolated fells are highlighted by the colours of autumn and the park is home to an abundance of birdlife.
A day trip to Inari includes a relaxing cruise on the lake, combined with a visit to the Sámi Siida Museum which provides a fascinating insight into the indigenous Sámi culture.
A particular highlight in Saariselkä is an interesting and rewarding trip to the Tankavaara Gold Village, which is said to be the only international museum in the world displaying the past and present of gold panning and prospecting. After a tour of the museum, you can try your hand at searching for gold. Anything you discover is yours to keep, so search hard enough and you may find your fortune in Lapland.
To conclude, this tailor-made holiday is ideal for Aurora seekers who want to potentially experience delightful displays, whilst enjoying the tranquil autumn terrain. The prospect of spending the entirety of your holiday in an Aurora Cabin ensures that you are able to maximise your potential for spotting this natural phenomenon and the daytime activities offer insight into all aspects of Lapland.
---
Credit: Markku Inkila, Visit Finland and Aleksi Koskinen, Inari-Saariselka Tourism Ltd
View Gallery
COM_ZENHOLIDAYS_TEXT_DOSSIER_DOWNLOAD_SUMMARY
Download Dossier
Key facts
| | |
| --- | --- |
| Duration: | 3 or more nights |
| Pace: | Set your own |
| Suitable for: | Ages 15+. See our terms for further information |
Make an enquiry
Accommodation
Included in price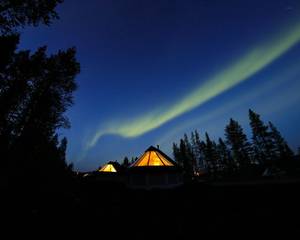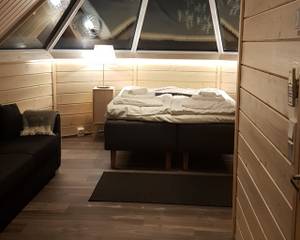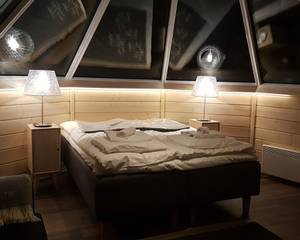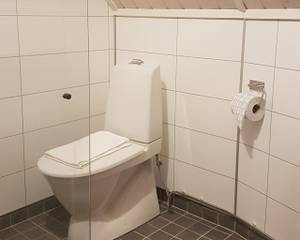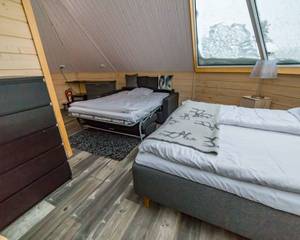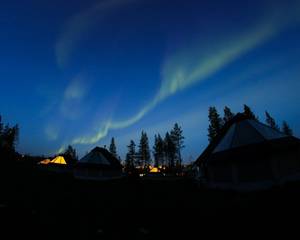 Saariselkä Northern Lights Village (autumn)
Nights:
1-4
Located in North East Finland, the Northern Lights Village sits on the outskirts of the ski resort of Saariselkä. Tucked away from the town and separated from it by dense forest, the location is ideal for viewing the Northern Lights but is still within walking distance (around 500m) of the town's amenities.
The Northern Lights Village offers accommodation in Aurora Cabins which are half-roofed with glass. The twin or double beds are situated beneath the panoramic roof and provide the chance to view the Northern Lights from your bed! It's not often that folk prefer a sleepless night but here it's not considered to be a huge inconvenience as it provides the chance to potentially witness Mother Nature's greatest light show!
There are 80 cabins in total, all of which are within a 5-10 minutes' walk of the Village's central facilities which include the restaurant where you'll enjoy breakfast and dinner.
Facilities
The village restaurant is an atmospheric place, inspired by traditional wooden kotas (Finnish teepees). Breakfast is a buffet of continental options and some hot dishes. Evening meals are a buffet with starters of soups and salad, a choice of local meat or fish will follow (the reindeer and white fish in this region are delicious!). Typically, a cake will be served for pudding, keeping you well-fuelled for your nocturnal Aurora hunting adventures. Dietary requirements are all well-catered for as long as we are informed at the time of booking
Saariselkä is around a 20-25 minute walk from the Northern Lights Village (40-50 minutes to the ski slopes) which means that all of the amenities, shops, cafés and local restaurants are within easy reach
For all Northern Lights activities, an expert guide will provide you with photographic tuition. If you do not have an SLR camera and tripod then they can both be rented locally. Your guide will also take pictures throughout the activities which can be purchased on your return to the village
Aurora Cabins
The Aurora Cabins have a half-glass roof and all face north. The design is based around the traditional wooden kotas (teepees) of Finland and has been specifically created for the village.
Each cabin has twin beds (which can be made into a double) and a sofa bed, suitable for an additional adult. There is a shower room (with underfloor heating) and a toilet, as well as a luggage storage area. Tea and coffee making facilities, a hairdryer and a minibar are also included.
Importantly for duvet-based Aurora hunting, a timer switch can be used to heat the glass roof should your view be obscured by the first snowfall of the oncoming winter.
Cabins are not cleaned between arrival and departure, unless requested from reception. Additionally, towels can be exchanged at reception if required.
Wi-Fi is only available at the onsite restaurant.
Please note: A number of new cabins are being delivered and constructed throughout November and December. Our local team have assured us that there will be no disruption to any services offered but there may be some building work in the area. This will be restricted to reasonable hours and any work will be as sympathetic as possible to the guests.
---
Image credits: Markku Inkila
Read more
Read less
Activities
Dates & Prices
Price Comparison Guarantee
Expertise and knowledge are key to witnessing the Northern Lights. We've been running Aurora hunting holidays longer than any company in the UK and with no lead in prices, no hidden costs and more included, we're confident our tours will come out on top.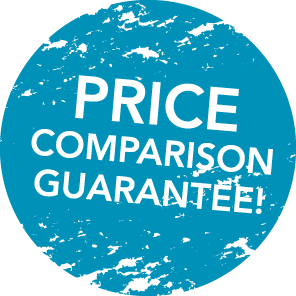 Prices
Next season's pre-sale dates and prices
To secure places for next season, you can make a provisional booking and fix the cost of your holiday at the provisional package price displayed online. Simply by paying a deposit, you will protect yourself from any package price increases. The departure dates and itineraries remain subject to change and we will contact you when the final dates and itineraries are confirmed. You will have 14 days to decide if you would like to go ahead. If you decide not to travel we will refund your deposit. We reserve the right to charge supplements where there are significant changes to an itinerary or increases in flight costs. Any non-package rates remain subject to change.
Departure dates between

Mon 26 Aug 2019
to
Mon 14 Oct 2019

Enquire

3 Nights

£ 1,300

Extra Night

£ 180

Tue 15 Oct 2019
to
Fri 29 Nov 2019

Enquire

3 Nights

£ 1,480

Extra Night

£ 235
Terms
For our full booking terms and conditions please click here
The Specifics
---
---