Overview
A tailor made holiday at the Northern Lights Village creates the remarkable possibility of witnessing the Aurora Borealis from the comfort of your own bed. The accommodation for the duration of your stay here in the very heart of Northern Lights territory will be in innovative north-facing, glass-roofed Aurora cabins. The village is near the small ski resort of Saariselkä which means you can tailor your holiday to combine the likes of dogsledding and downhill skiing by day with Aurora hunting at night.
What's included?
ALL OF THE SERVICES LISTED BELOW ARE INCLUDED IN THE HOLIDAY PRICE
Flights: return flights from London to Ivalo Airport. Direct flights are available from Gatwick on Thursdays and Sundays (ideal for 3, 4 or 7 night stays). All other days will include indirect flights from Heathrow (via Helsinki). Routes are subject to change and availability
Transfers: return airport transfers*
Accommodation: a minimum of 3 nights in an Aurora Cabin (but you can stay for as long as you wish. Extra night costs are listed in the 'Dates & Prices' section)
Meals: half board
Activities: choose from our extensive range of activities (individually priced in the 'Activities' section of the holiday page)
Cold weather clothing is provided for the duration of your stay
* Transfers are based on a scheduled group shuttle to a few nearby hotels. If you would prefer to upgrade to private taxi transfers please ask our Travel Experts for a quotation.
---
The Northern Lights Village is the latest in Finland's increasingly diverse selection of Aurora friendly accommodation. Unlike many destinations where you spend just one night in an Aurora cabin, here it's for the entire duration of your stay. Essentially, you go to bed under the stars and, with a bit of luck, the Northern Lights, but in the comfort of a warm and cosy glass-roofed cabin.
Read more
There are 80 such cabins at the Northern Lights Village which is situated just 1000 metres from the amenities in the centre of Saariselkä. The cabins are cleverly protected from the lights of Saariselkä's more distant ski centre by dense northern woodland. Being in the very heart of the Auroral Zone, the chances of watching the lights whilst lying in bed are really rather good. Wouldn't that be a story to tell when you get home?
Essentially, these tailor-made Northern Lights holidays have it all: Aurora cabins, easy access to downhill ski slopes and an extensive range of winter activities which can be tailored to suit your requirements.
After selecting your preferred holiday duration (a minimum of three nights is required) you choose the activities that best suit you. Lapland's gently rolling fells and snowy forests are just waiting to be explored and our team of experts are just a phone call away (01670 785 012) if you need any advice about how best to go about it.
There are dog sledding and snowmobile safaris of various lengths so you can choose whether you want a taster or longer adventure. If you prefer to delve into local traditions and culture then we offer trips to the famous Sámi Siida Museum as well as introductions to cross-country skiing and snowshoeing. Reindeer are synonymous with this part of the world and meeting a herder and enjoying a gentle reindeer-pulled sleigh ride is another "must-do" activity here in Finnish Lapland.
What's more, all activities begin at the Northern Lights Village so you'll waste no time with transfers to activity start points.
Saariselka also has 15 downhill ski slopes and is renowned for its network of cross-country ski trails so there really is an activity here for everybody.
After darkness falls, it's time to get out in search of the Aurora and you can also choose your preferred means of tracking down "the elusive lady". There are remote Aurora Camp excursions along the Russian border, snowshoe hikes, minibus hunts and snowmobile adventures, all of which are led by expert local guides who will do all they can to help you witness an Auroral display.
Our friend Markku, whose vision created the Northern Lights Village, is an Aurora nut. He lives and breathes the Northern Lights and is rarely happier than when he is capturing them on camera. He knows that photographing the Aurora is also an important aim for our guests and all our Northern Lights activities here include elements of Aurora photography. If you've got all the kit, then your guides will help you to capture the lights on your own camera. If you prefer to watch rather than photograph then you can buy the guides' images to take home as the ideal souvenir.
For a flexible Aurora hunting holiday, staying in dedicated Northern Lights accommodation, then there are very few places which can surpass the Northern Lights Village.
---
Image credits: Inari-Saariselkä Tourism Ltd, Markku Inkila
View Gallery
Download Dossier
Key facts
| | |
| --- | --- |
| Duration: | 3 or more nights |
| Pace: | Set your own |
| Suitable for: | Ages 15+. See our terms for further information |
Make an enquiry
Accommodation
Included in price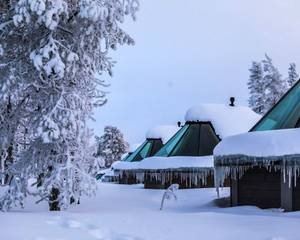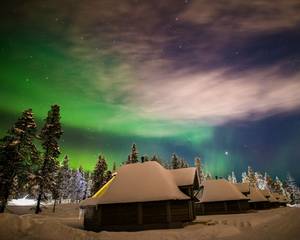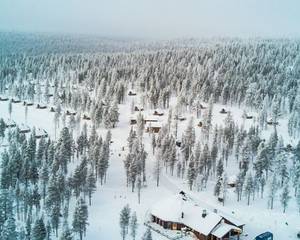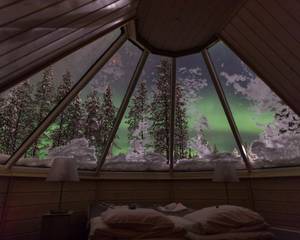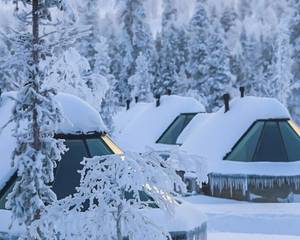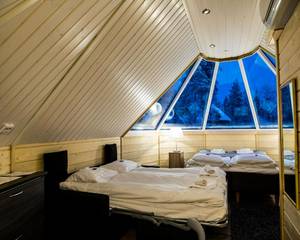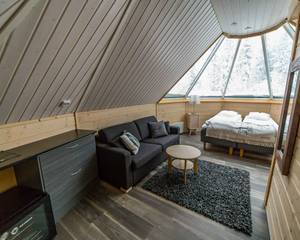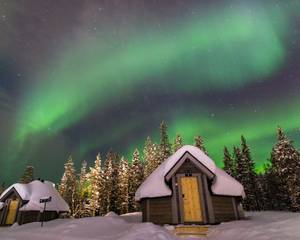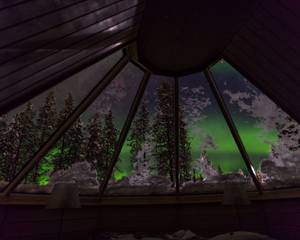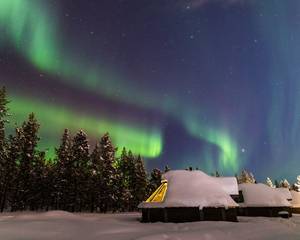 Saariselkä Northern Lights Village
Nights:
1-3
Located in North East Finland, the Northern Lights Village sits on the outskirts of the ski resort of Saariselkä. Tucked away from the town and separated from it by dense forest, the location is ideal for viewing the Northern Lights but is still within walking distance (around 1000m) of the town's amenities. The ski slopes can be accessed via a shuttle (small charge applies) or a pleasant walk of around 40-50 minutes.
The Northern Lights Village offers accommodation in Aurora Cabins which are half-roofed with glass. The twin or double beds are situated beneath the panoramic roof and provide the chance to view the Northern Lights from your bed! It's not often that folk prefer a sleepless night but here it's not considered to be a huge inconvenience as it provides the chance to potentially witness Mother Nature's greatest light show!
There are 80 cabins in total, all of which are within a 5-10 minutes' walk of the Village's central facilities which include the restaurant where you'll enjoy breakfast and dinner.
Facilities
The village restaurant is an atmospheric place, inspired by traditional wooden kotas (Finnish teepees). Breakfast is a buffet of continental options and some hot dishes. Evening meals are a buffet with starters of soups and salad, a choice of local meat or fish will follow (the reindeer and white fish in this region are delicious!). Typically a cake will be served for pudding, keeping you well-fuelled for your nocturnal Aurora hunting adventures. Dietary requirements are all well-catered for as long as we are informed at the time of booking.
The Northern Lights Village has an onsite reindeer farm and all activities (including the reindeer safaris) start in the village so there is no need for time-wasting transfers. Basically, because we want to make your holiday as uncomplicated as possible, life is made very easy here.
The Northern Lights Village is home to a herd of reindeer and you can watch them go about their business as you eat breakfast in the restaurant.
Saariselkä is around a 20-25 minute walk from the Northern Lights Village (40-50 minutes to the ski slopes) which means that all of the amenities, shops, cafés and local restaurants are within easy reach.
For all Northern Lights activities, an expert guide will provide you with photographic tuition. If you do not have an SLR camera and tripod then they can both be rented locally. Your guides will also take pictures throughout the activities which can be purchased on your return to the village.
Aurora Cabins
The Aurora Cabins have a half-glass roof and all face north. The design is based around the traditional wooden kotas (teepees) of Finland and has been specifically created for the village.
Each cabin has twin beds (which can be made into a double) and a sofa bed, suitable for an additional adult. There is a shower room (with underfloor heating) and a toilet, as well as a luggage storage area. Tea and coffee making facilities, a hairdryer and a minibar are also included.
Importantly for duvet-based Aurora hunting, a timer switch can be used to heat the glass roof should your view be obscured by snowfall. It takes approximately 5-10 minutes to heat and melt the snow so there's no need to go and sweep the roof in your pyjamas!
Cabins are not cleaned between arrival and departure, unless requested from reception. Additionally, towels can be exchanged at reception if required.
Wi-Fi is only available at the onsite restaurant.
Please note: a number of new cabins are being delivered and constructed throughout November and December. Our local team have assured us that there will be no disruption to any services offered but there may be some building work in the area. This will be restricted to reasonable hours and any work will be as sympathetic as possible to the guests.
---
Image credits: Markku Inkila
Read more
Read less
Activities
Dates & Prices
Price Comparison Guarantee
Expertise and knowledge are key to witnessing the Northern Lights. We've been running Aurora hunting holidays longer than any company in the UK and with no lead in prices, no hidden costs and more included, we're confident our tours will come out on top.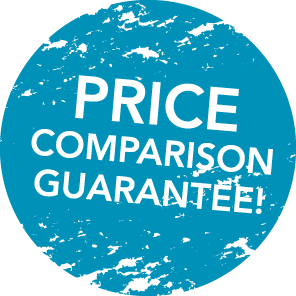 Please note: For new bookings taken after the 25th January 2018 a 10% discount is applicable for departures between the 25th January and the 9th February and the 20th March and 31st March 2018. The discount will be applied at the time of booking. Valid for a limited time only, terms and conditions apply.
Prices
Terms
For our full booking terms and conditions please click here
Holiday group size (approximate)
Minimum 2 people (all dates)
Group sizes and minimum numbers
Most of our holidays require a minimum number of participants to operate. Minimum numbers are detailed on each holiday page and are always approximate. Group sizes for tailor made holidays will vary for each of the activities. For private departures you may also be joined by other guests during the activities unless you have discussed specific private activities with us.
If your selected date has not yet reached minimum numbers you will be informed at the time of booking. In the unlikely event that your chosen date has not reached the required minimum numbers nine weeks before your scheduled departure date we will contact you and discuss the various options available to you. We will always do all we can to operate a holiday and in some cases we may be able to operate the holiday by combining your itinerary with that of other guests for some activities (this may mean that the maximum group size is increased but this will be discussed in full with you).
If we are unable to operate the holiday then you will be offered the chance to transfer to an alternative holiday or date (subject to availability). If the alternative is more expensive you will be asked to pay the difference, if it is cheaper then you will be reimbursed. You will also be offered the option to cancel and receive a full refund of all monies paid.
See our booking conditions for further information.
Order of activities
The order of activities is always subject to change and you will be provided with your final itinerary upon arrival at your destination
Medical History and advice
If you or any member of your party is pregnant or has any medical condition or disability which may affect your holiday or has any special requirements as a result of any medical condition or disability (including any which affect the booking process), please tell us before you confirm your booking so that we can assist you in considering the suitability of the arrangements and/or making the booking. In any event, you must give us full details in writing at the time of booking and whenever any change in the condition or disability occurs. You must also promptly advise us if you become pregnant or any medical condition or disability which may affect your holiday develops after your booking has been confirmed.
See our booking conditions for further information.
Experience and fitness
We offer a vast choice of holidays which range from 'relaxed' to 'active' so there really is something for everyone and our holidays can be filtered by how active they are. Regardless of the chosen holiday, all activities will include tuition from a beginner's lever and no prior experience is assumed.
If you are unsure about the physical demands of a particular holiday please contact us and our expert team will be happy to help.
See our booking conditions for further information.
Guides and safety
It is absolutely essential when partaking in any activity that you listen very closely to, and abide by, the instructions provided.
If there is anything that you are unsure of during a safety briefing or that you would like to clarify with the guides please make this clear to them immediately before starting the activity.
Our guides' word on activities is always final and your safety is their principal concern at all times, please respect their decisions. By following their instructions, your safety and enjoyment during each activity will be greatly enhanced.
See our booking conditions for further information.
Booking activities locally
In almost all of our destinations you can book and pay for additional activities locally. Please note that we cannot be held responsible for any injury or loss that occurs through any activities that are booked in your destination (see our terms and conditions for further details).
Please always ensure that your safety is your primary concern when arranging any such activity.
Car Hire
If your trip includes car hire the named driver must have a credit card registered in their name which they can present when they collect their car along with their driving licence, as a deposit will be held on the credit card. Please see your trip dossier for full details.
Cancellation by you
More than 63 days prior to departure – Loss of deposit
63 to 45 days prior to departure – 40%
44-29 days prior to departure – 60%
28 to 15 days prior to departure – 80%
14 or fewer days – 100%
Reviews
Traveller Reviews
It was the perfect holiday
08 March 2018
by Wesley and Gemma Knipe
We absolutely loved everything we did. The aurora hunt was a very special trip even though we didn't see the aurora at this time. The cross country skiing was so much fun and we were encouraged to go at our own pace through a lovely encouraging guide.
We did the reindeer sleigh ride
06 March 2018
by April and William Legge
We did the reindeer sleigh ride and loved that the guide came down the line and offered to take everyone's picture on their own phone/camera. My husband enjoyed the dog sledding the most!
Fall in love with Finland
20 February 2018
by Tina and Simon Price-Johnson
From the moment my husband and I stepped off the plane at Ivalo airport we were provided with excellent service and advice by the many staff at the Northern Lights Village, Saariselkä. Every detail of our pre-booked activities was provided, and the snowsuits were comfortable and extremely warm. I have osteoarthritis which can be affected by the cold but was not at all during the trip. The…
Read more accommodation was very clean and beautifully laid out. Lying at night under the glass roof in the cosy warmth of our cabin, watching the snow fall around the cabins and trees, was sublime. The reindeer sleigh rides were informative and made me feel I was in a film! The beauty of the village was almost unreal. Although I fell off the husky sled whilst driving, I did not hurt myself due to landing in the four feet of snow by the side of the track, and it was thrilling and such an adrenalin rush to drive I wanted to do it again straight away. We were lucky enough to be the only two for the Siida Museum trip and our guide, Yuka, was very well-informed and solicitous of our comfort. Quite simply put, there is nothing that could have been improved about our whole experience. The trip was a dream from start to finish.
Read less
The staff at the Northern Lights Village were fantastic, we could not fault them.
19 February 2018
by Kimberley Berridge and Simon Bloom
The holiday was a dream come true. We didn't see the lights but that was ok as the rest of the activities and accommodation were great fun and you almost forgot you were there to see the lights. I loved the snow mobiles, we were lucky enough to be just my partner and I with the guide and we got to stop and start as we pleased. it was fantastic. My partner loved the husky's - very enjoyable
Overall the place is amazing and we loved it.
10 January 2018
by Sarah and Rebecca Skinner
The most enjoyable trip for us was our first trip out to the Lake because we got to see the Northern Lights. Overall the place is amazing and we loved it.
We had a lovely time
03 January 2018
by The Taylor Family
We loved our cabin at the Northern Lights Village. Husky sledge driving was great fun with good instruction.
---
Gallery
Photos (9)
Videos (1)
---