Overview
Escape to the wilderness of Finnish Lapland this winter on an activity-filled break at boutique Hotel Nangu. This adults-only hotel offers elegance, comfort and peace and is positioned in a remote destination that is ideal for searching for the Northern Lights, due to its complete lack of light pollution. While you are here, you will experience two thrilling snowmobile excursions, a husky and reindeer day, two Aurora Camps and snowmobile-pulled sleigh rides through the stunning wintry landscape.
What's included?
ALL OF THE ACTIVITIES AND SERVICES LISTED BELOW ARE INCLUDED IN THE HOLIDAY PRICE
Flights: direct return flights from London Gatwick to Ivalo (flight routes are subject to change)
Transfers: return airport transfers
Accommodation: 4 nights in a twin/double hotel room
Meals: full board
The following activities are included in the holiday: dog sledding, snowmobile-pulled sleigh to a reindeer farm, daytime snowmobile safari, two Aurora camps, Aurora snowmobile safari (the order of activities is subject to change).
Fully qualified guides and instructors during activities
Cold weather clothing for the duration of your stay
Aurora alert until approximately 1 am
---
If you were to close your eyes and think of the perfect winter setting, what would you visualise? A snow-carpeted landscape, a location that feels almost in the middle of nowhere, warming hot drinks, toasty open fires, and rustic log buildings? If you spend a winter break at Hotel Nangu, this idyll will be converted into reality…
Boutique Hotel Nangu sits on the remote southern shores of Lake Inari, perfectly positioned in a wintry haven that offers the ideal combination of relaxation, activities and Northern Lights viewpoints. Our four-night itinerary includes all of this, as we have rolled all of the best activities into just three days. There's time to enjoy your accommodation in between, and three Northern Lights hunts in the evenings.
Read more
By day, you will find yourself speeding over the frozen expanse of Lake Inari by snowmobile, meeting a traditional Sámi reindeer herder, feeding reindeer, guiding your own team of huskies, and enjoying a snowmobile-pulled sleigh ride to the Russian border. By night, you will, of course, be on the look-out for the Aurora Borealis. Twice you'll travel by snowmobile-pulled sleigh as you venture towards a dedicated Aurora Camp, where a warming campfire waits for you. The third will be by snowmobile, so you can search further afield, hopefully escaping any localised cloud cover that might obscure the dazzling colours and formations of the lights.
Your base for the duration is owned by, Jouko and Mari, who already oversee two of our most popular hotels which are in the vicinity of Nangu. We've worked with them for years and we know that they have been desperate to make their boutique hotel dreams a reality. Hotel Nangu is newly renovated for winter 2017, and offers elegant double rooms, with the option to upgrade to superior rooms with panoramic windows for breath-taking views of Lake Inari. Not only does the hotel offer ultimate comfort, but it is open to adults only over winter for added tranquillity.
So, make a dream a reality this year and experience a winter that you thought only your imagination could conjure up.
---
Photography by Anthony Oberlin and Markku Inkila
View Gallery
Download Dossier
Key facts
| | |
| --- | --- |
| Duration: | 4 nights |
| Pace: | Active |
| Suitable for: | Ages 18+. Please see our terms for further information |
Make an enquiry
Agenda
Accommodation
Included in price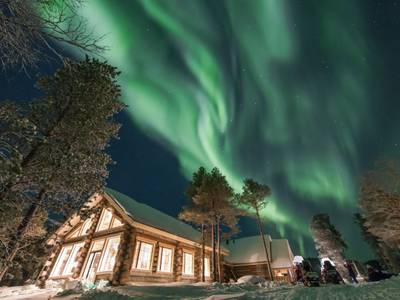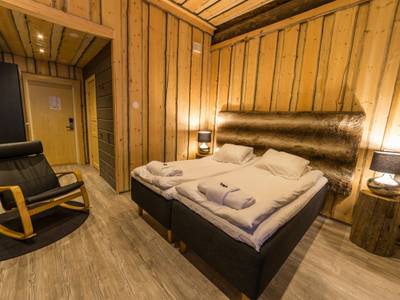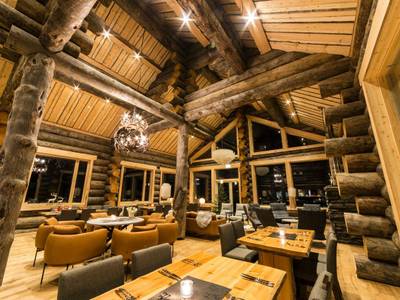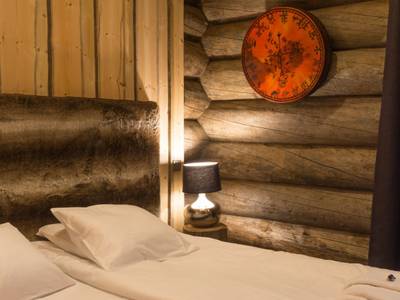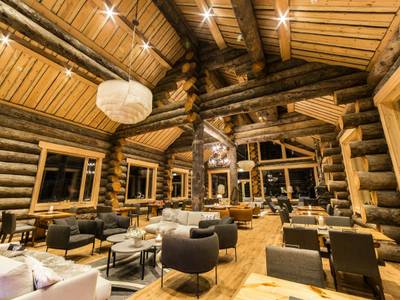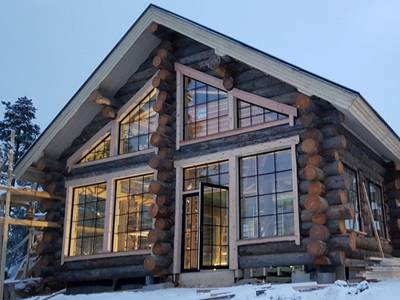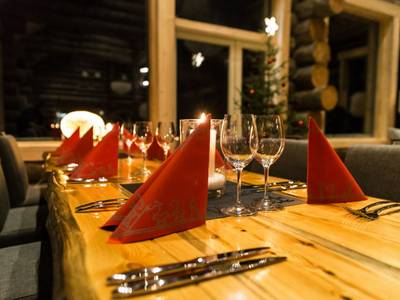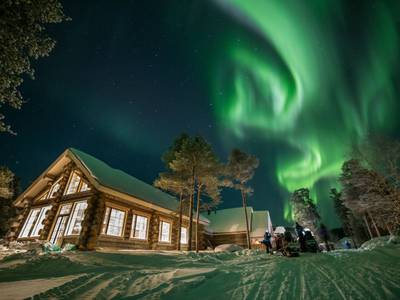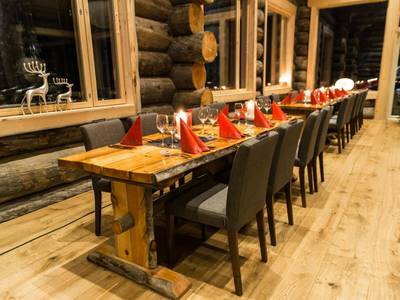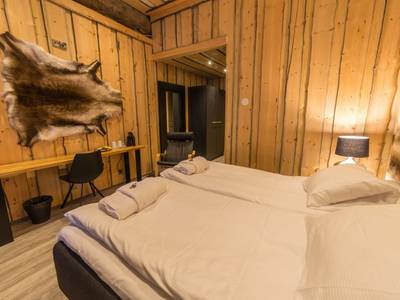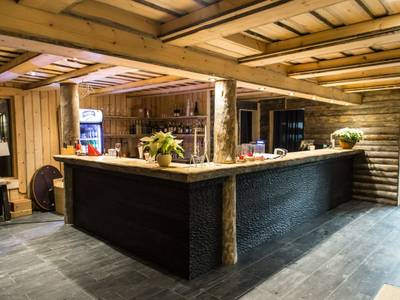 Hotel Nangu
Nights:
1-4
This adult-only, boutique hotel is the ideal space for those wanting a peaceful winter break. Hotel Nangu is made up of a series of elegant log buildings, each containing various types of accommodation.
The hotel belongs to our good friends and longstanding partners Jouko and Mari, and is their newest venture, opening for winter 2017. With years of experience running some of our most popular accommodation choices in Nellim and Muotka, there is no doubt that you will be in good hands here as they are experts in Lappish hospitality.
Hotel Facilities
The main building features the cosy reception and communal area where you will be greeted upon arrival
Also located in the main building is the stunning hotel restaurant which features a traditionally elegant log décor and a menu which includes many local delicacies
One of the buildings contains a communal traditional Finnish sauna
There are 24 rooms in total including standard double rooms, single rooms, and an option to upgrade to superior rooms with panoramic lake-view windows. One of the superior rooms also has a private sauna (first come, first served folks!)
Free Wi-Fi is available throughout the hotel
Hairdryer and toiletries available in every room
Room types
Standard Wilderness Room (double or twin)
All rooms at Nangu are elegantly decorated with a cosy, rustic wooden interior, offering a traditional Finnish ambience. The standard wilderness rooms accommodate two people, have a large window, an en-suite shower and toilet with hairdryer.
---
Image credits: Matt Robinson
Read more
Read less
---
Other options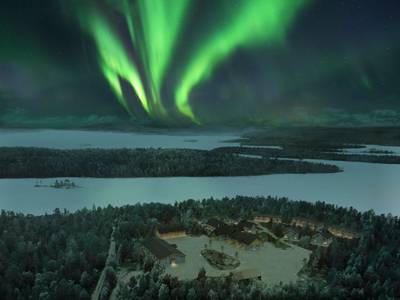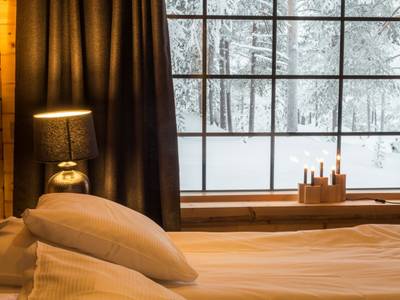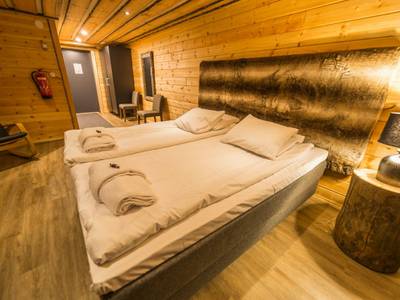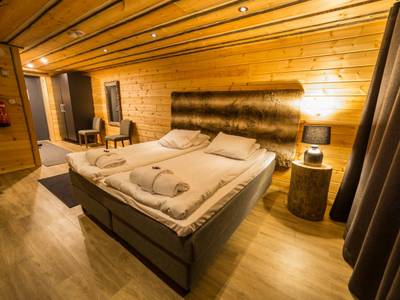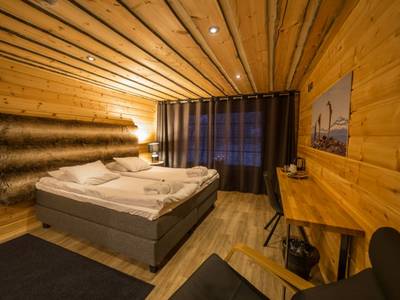 Superior room with panorama window
Supplements from: £100pp
This room type contains all of the same facilities as a standard room but offers more space. It also has the added benefit of a panoramic window that looks out onto Lake Inari, providing sensational views from the comfort of your bed. Imagine just lying there while the Aurora Borealis blazes over Lake Inari!
Personalise
Personalise this tour
---
Our pick
This activity will take you deep into the wilderness that surrounds Nangu. Your snowshoes will be provided, and you will strap them to your winter boots prior to setting off on the trail.
Read more
Your guide will take you through the stunning winter scenery, while you appreciate the peace and quiet as the snow deadens any sound and only the crunching sound of your feet on the ground is audible. While you walk, your guide will share information and stories about the area's nature and wildlife.
During this activity, you will stop for hot drinks and lunch around a campfire.
Duration: 4 hours
---
Other options
Activities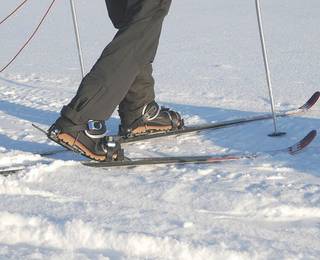 Cross-country skiing
From: £62pp
Cross-country skiing is a traditional Finnish winter sport, and a "must-try" when you are here in Finnish Lapland!
Do not worry if you have never skied before, as you will be given a full safety briefing and lesson which will include tips and techniques that will help you along. Even those experienced downhill skiers will find this a completely new experience, so the group can muddle along together until everyone finds their feet. Then, your guide will take you out on the trail, keeping to a pace and route that is suitable for the group.
Read more about this activity
After this guided introduction, you may have the opportunity to head out on your own and put your new skills to some independent practice. This will be dependent on time left after the activity and will be at the guide's discretion.
Duration: 2 hours
Dates & Prices
Price Comparison Guarantee
Expertise and knowledge are key to witnessing the Northern Lights. We've been running Aurora hunting holidays longer than any company in the UK and with no lead in prices, no hidden costs and more included, we're confident our tours will come out on top.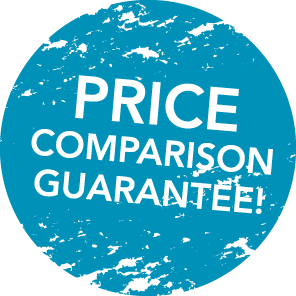 ---
Single adult price: based on single room accommodation only (transfers are shared). Should you wish to drive your own husky team or snowmobile please ask our Travel Experts for a quotation.
Prices
Terms
For our full booking terms and conditions please click here
Holiday group size (approximate)
Minimum 2 and maximum 12 people (approximately)
Group sizes and minimum numbers
Most of our holidays require a minimum number of participants to operate. Minimum numbers are detailed on each holiday page and are always approximate. Group sizes for tailor made holidays will vary for each of the activities. For private departures you may also be joined by other guests during the activities unless you have discussed specific private activities with us.
If your selected date has not yet reached minimum numbers you will be informed at the time of booking. In the unlikely event that your chosen date has not reached the required minimum numbers nine weeks before your scheduled departure date we will contact you and discuss the various options available to you. We will always do all we can to operate a holiday and in some cases we may be able to operate the holiday by combining your itinerary with that of other guests for some activities (this may mean that the maximum group size is increased but this will be discussed in full with you).
If we are unable to operate the holiday then you will be offered the chance to transfer to an alternative holiday or date (subject to availability). If the alternative is more expensive you will be asked to pay the difference, if it is cheaper then you will be reimbursed. You will also be offered the option to cancel and receive a full refund of all monies paid.
See our booking conditions for further information.
Order of activities
The order of activities is always subject to change and you will be provided with your final itinerary upon arrival at your destination
Medical History and advice
If you or any member of your party is pregnant or has any medical condition or disability which may affect your holiday or has any special requirements as a result of any medical condition or disability (including any which affect the booking process), please tell us before you confirm your booking so that we can assist you in considering the suitability of the arrangements and/or making the booking. In any event, you must give us full details in writing at the time of booking and whenever any change in the condition or disability occurs. You must also promptly advise us if you become pregnant or any medical condition or disability which may affect your holiday develops after your booking has been confirmed.
See our booking conditions for further information.
Experience and fitness
We offer a vast choice of holidays which range from 'relaxed' to 'active' so there really is something for everyone and our holidays can be filtered by how active they are. Regardless of the chosen holiday, all activities will include tuition from a beginner's lever and no prior experience is assumed.
If you are unsure about the physical demands of a particular holiday please contact us and our expert team will be happy to help.
See our booking conditions for further information.
Guides and safety
It is absolutely essential when partaking in any activity that you listen very closely to, and abide by, the instructions provided.
If there is anything that you are unsure of during a safety briefing or that you would like to clarify with the guides please make this clear to them immediately before starting the activity.
Our guides' word on activities is always final and your safety is their principal concern at all times, please respect their decisions. By following their instructions, your safety and enjoyment during each activity will be greatly enhanced.
See our booking conditions for further information.
Booking activities locally
In almost all of our destinations you can book and pay for additional activities locally. Please note that we cannot be held responsible for any injury or loss that occurs through any activities that are booked in your destination (see our terms and conditions for further details).
Please always ensure that your safety is your primary concern when arranging any such activity.
Car Hire
If your trip includes car hire the named driver must have a credit card registered in their name which they can present when they collect their car along with their driving licence, as a deposit will be held on the credit card. Please see your trip dossier for full details.
Minimum age
The minimum age for participation in our itinerary is 18 years old however, for some activities and shared transfers, our guests may be joined by others and these may include those of a younger age. Any younger participants will be fully supervised by an adult and the guides will ensure that they are only able to participate if there will be no affect on the activity experience. None of the hotels we feature have a minimum age and so there may be families staying at them with younger children, especially during the holiday periods.
To drive a snowmobile you must have a full driving licence and be over 18 years old.
Aurora alerts
During your stay, you will be supplied with an Aurora alert. This is typically a mobile phone system to which the staff will send a text should the Northern Lights be sighted. The alerts generally operate until 1 am but it is best to confirm with your guide as times may vary.
The alerts are designed as an aid to Aurora hunting and, although every effort will be made to issue an alert should the conditions seem conducive to a display, things can change very quickly so you should not rely solely on them and should also keep an eye on the sky yourself.
Reviews
Traveller Reviews
Everything exceeded our expectations
08 February 2018
by Jonathan and Gail Abrahams
Everything exceeded our expectations and will definitely recommend this trip. Great holiday, well organised and really appreciated one small group for the activities. Hotel was Lovely and all the staff were friendly, informative and helpful - it didn't feel like a hotel it was very welcoming and relaxed.
We had a wonderful time
05 February 2018
by Stephen and Helen Dusting
We had a wonderful time.We did have a long outward flight delay which meant we missed the first half day at our destination.However ,the hotel had rearranged our activities to compensate for this and had hot food waiting for us on arrival. The hotel was in a beautiful secluded setting and looks lovely.It is brand new a there were still a few glitches which are being sorted out and therefore I…
Read more can't fault that. The Northern Lights were magical and made the tri,p however, we would have been content to go home without seeing them as we understood that they can't be guaranteed.
Read less
---
---