Overview
Menesjärvi is a wild and isolated place at the very heart of the Aurora Zone. The surrounding wilderness ensures that there is minimal light pollution, and as the skies become darker following the period of the midnight sun, the Aurora begins to re-emerge. Witness a spectacular contrast as this natural phenomenon highlights the ethereal shades of autumn and discover how to capture the scene with an Aurora photography workshop.
What's included?
ALL OF THE ACTIVITIES AND SERVICES LISTED BELOW ARE INCLUDED IN THE HOLIDAY PRICE
Flights: return flights from London Heathrow to Ivalo via Helsinki
Transfers: return airport transfers
Accommodation: 4 nights in twin/double hotel room
Meals: full board
The following activities are included in the holiday: visit a reindeer farm, Aurora photography workshop, Aurora hunt on foot, Aurora hunt by car/on foot, guided nature walk, husky and siida visit (the order of activities is subject to change)
Fully qualified guides and instructors during activities
---
Perhaps the focal point of any trip to Menesjärvi is the anticipation of seeking out the Northern Lights. The Finnish 'Ruska' season sees the onset of darker nights and starry skies and the remote location ensures minimal light pollution. The landscape is bathed in the vibrant shades of brown and orange and it is a time of immense change in Lapland. September, in particular, showcases this contrast in colour and is an ideal time to visit. You can sense the excitement from the locals at the prospect of the first snows of winter.
This holiday is designed to give guests an authentic Lappish experience during 'Ruska', whilst maximising the opportunities to explore the vibrant autumn landscapes and potentially witness the Aurora Borealis. Auroral displays during the Finnish 'Ruska' can rival, and very often better, those of winter, due to the stunning colours and the captivating reflection as it dances above the still open waters of Lake Menesjärvi.
Read more
Imagine the anticipation of seeking out the Aurora Borealis. The hunt is an experience in itself, but to witness the Northern Lights as they light up the Autumnal skies is beyond description. Fortunately, an Aurora photography workshop will prepare you for any photo opportunities and introduce you to capturing this natural phenomenon.
This Aurora Borealis holiday also includes a journey into the unusual Sámi culture. A visit to a local reindeer farm will give you a valuable insight into the lifestyle of the local Sámi herders. The Sámi have survived in the harsh Arctic environment for centuries and it is fascinating to learn about how important the reindeer are to that survival.
You will also visit a local husky farm where your arrival will undoubtedly be met by a volley of excited barks, yelps, whimpers, growls and other assorted doggy noises. Following a tour of the husky farm, you will then visit the highly recommended Sámi Siida Museum, which showcases this unusual culture with an array of impressive displays. The museum also has a surprisingly colourful (the Sami people love bright colours) and attention-grabbing gift shop, where you can purchase traditional Sámi handicrafts.
During your time in Menesjärvi, you will be based at Hotel Korpikartano which was a former boarding school and exudes character and charm. Your welcoming hosts Anne and Timmo and the rustic simplicity of the accommodation offer the perfect introduction to Lappish hospitality. Its isolated location on the shore of Lake Menesjarvi (jarvi is Finnish for lake) with virtually no light pollution and unobstructed views of the night sky is perfect for Aurora hunting.
To conclude, this holiday has a striking balance of Lappish culture, Autumnal nature and alluring Northern Lights hunting which is guaranteed to produce treasured memories.
---
Image credits: Timo Halonen and Korpikartano.Fi
View Gallery
Download Dossier
Key facts
| | |
| --- | --- |
| Duration: | 4 nights |
| Pace: | Balanced |
| Suitable for: | Ages 15+. See our terms for further information |
Make an enquiry
Agenda
Accommodation
Included in price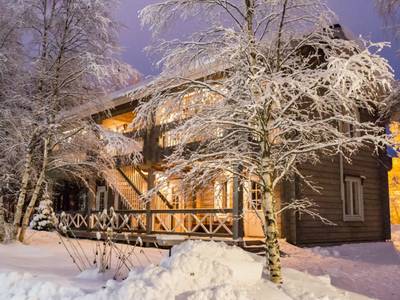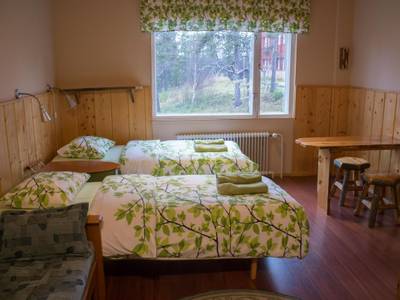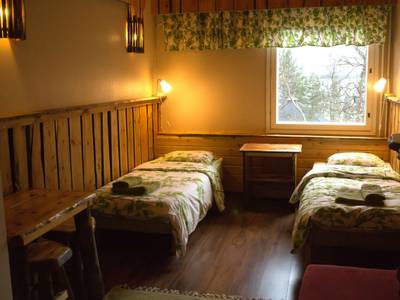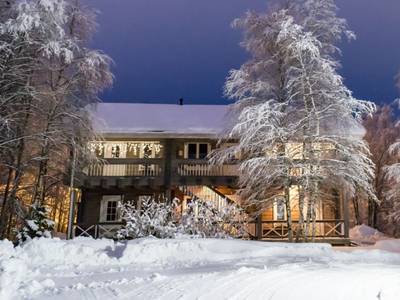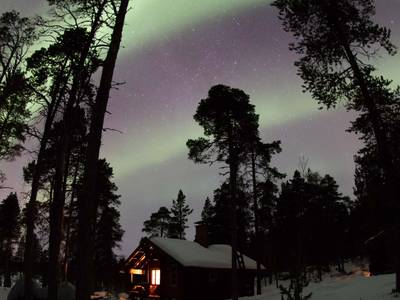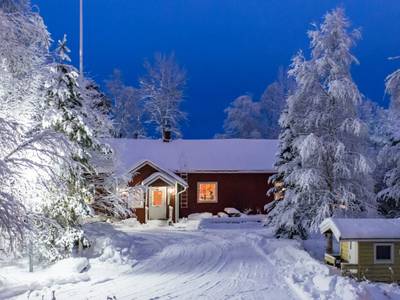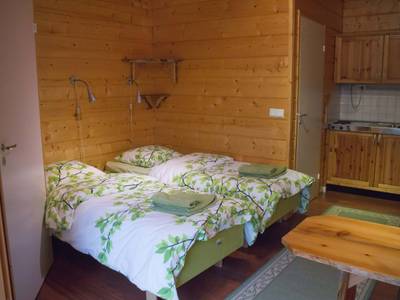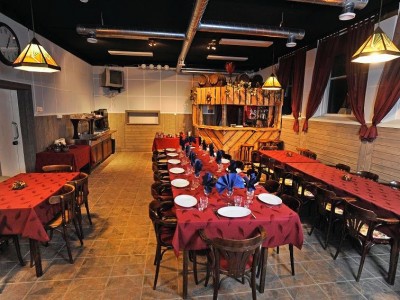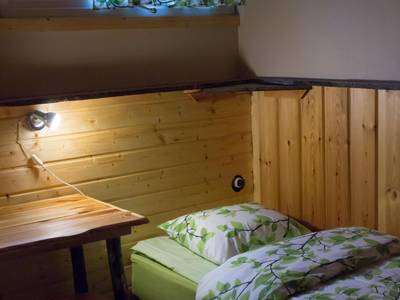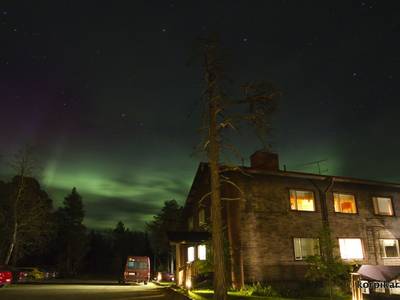 Hotel Korpikartano
Nights:
1-4
The Hotel Korpikartano was originally a boarding school for those growing up in this remote part of the world and is, therefore, full of quirks, character and charm. The welcome provided by the owners, Anne and Timo, creates a wonderful atmosphere and their passion for the region is infectious.
The hotel's location couldn't be more idyllic, with a fantastic outlook over Lake Menesjärvi and the remote wilderness beyond. The lack of artificial light in the area ensures that if the Aurora appears, then you may well be able to enjoy fantastic displays very close to the hotel.
The hotel comprises two main buildings. The main building houses the dining room and a number of bedrooms. A separate annexe building (a very short walk away) houses the majority of the guest accommodation.
Hotel facilities
Traditional home cooking is the order of the day in the hotel's restaurant. The food can be described as 'simple, tasty and hearty' and is very much designed to fuel you up for your outdoor adventures. In many cases, the evening's set menu will contain local ingredients such as fresh fish that Timo has caught himself or meat purchased from the local reindeer herders. The set evening meals are all self-service and you can also purchase a range of wine, beer and spirits to accompany your meal. Please let us know at the time of booking if you have any dietary requirements so these can be accommodated
Obviously, saunas are a pre-requisite in these parts and there are two in the main building as well as an outdoor wood-burning sauna. Should you request the use of the outdoor sauna (a local charge will apply), don't forget that a dip in the lake is almost obligatory (as long as you are in a good physical condition)
The simple lounge (near the reception) provides tea and coffee making facilities. Consider this to be the perfect spot to relax by the stove with a book but remember to keep your eyes peeled for the Northern Lights as the windows face north! There is also a TV in case you fancy watching some unfathomable Finnish TV
There is free Wi-Fi for guests to use throughout both buildings and there is a PC available at reception
Books and games are also available to borrow from reception
Room types
The 28 guest bedrooms vary in size and shape. They are cosy, comfortable and decorated with locally-sourced wood in a Scandinavian style. Some of the furniture has been crafted by Timo's own hand. All guest bedrooms have an en-suite bathroom with shower and a hairdryer. Cups and kettles are provided in each room and a variety of teas and coffee is available in each building for you to take to your room.
---
Image credit: Timo Halonen, Matt Robinson
Read more
Read less
Personalise
Personalise this tour
---
Our pick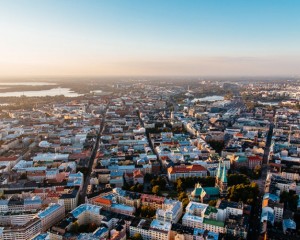 With our destinations being so remote, the majority of flights to Finnish Lapland are operated by Finnair and therefore involve connecting through Helsinki Airport. Many of our guests choose to extend this stop and spend some time in the Finnish capital, either at the start or end of their holiday.
Read more
We can arrange a wide variety of city centre hotel accommodation for guests to choose from and some options closer to the airport should you prefer. We know that everyone tends to be looking for something different so please contact our Travel Experts for their opinion on the hotels which may best suit you and your party.
Located on the peninsula of the Baltic Sea, Helsinki enjoys a charming coastal location and has much to offer its guests. This thriving city has a rich culture and arts scene with many museums and galleries to enjoy alongside the exciting gastronomy.
Despite its cool urbanism and a reputation for cutting-edge design, Helsinki also retains its charm and visitors will enjoy this city's very friendly atmosphere.
In the city itself, Senate Square is the main feature, showcasing neoclassical architecture and offering easy access to the surrounding shops. With Helsinki once part of the Duchy of Russia, it offers similar striking architecture, with wide streets and bold facades. For those looking for more of an insight into the city's past, we would suggest visiting the Ateneum Art Museum which houses over 20,000 pieces of art or the Helsinki Design Museum which showcases the history of design in the country from traditional folklore to postmodernism.
A 15-minute ferry ride from the main city is the UNESCO-listed Suomenlinna Sea Fortress which was constructed in 1748. As well as being a unique monument, it is also a lovely day trip, as the island has numerous shops and parks to explore.
Helsinki's food scene has seen a recent evolution, with a growth in street food which showcases the city's multicultural population. Helsinki is famed also for its specialist dishes of seafood and Russian cuisine so there is much to sample!
Finland is famed for its coffee consumption so you can be sure of a thriving café culture here. Be sure to include an obligatory stop for a coffee and a cinnamon roll during your explorations!
Whether you add your city break onto the start or the end of your holiday, spending a night or two in Helsinki is not something that you will regret.
Please contact our Travel Experts for a full quotation. All city breaks are subject to flight availability.
Image credit: Visit Helsinki & Jussi Hellston
---
Dates & Prices
Price Comparison Guarantee
Expertise and knowledge are key to witnessing the Northern Lights. We've been running Aurora hunting holidays longer than any company in the UK and with no lead in prices, no hidden costs and more included, we're confident our tours will come out on top.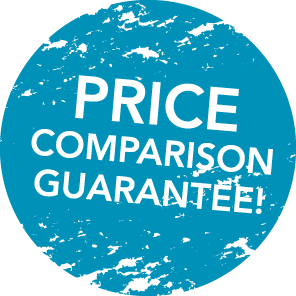 Prices
Next season's pre-sale dates and prices
To secure places for next season, you can make a provisional booking and fix the cost of your holiday at the provisional package price displayed online. Simply by paying a deposit, you will protect yourself from any package price increases. The departure dates and itineraries remain subject to change and we will contact you when the final dates and itineraries are confirmed. You will have 14 days to decide if you would like to go ahead. If you decide not to travel we will refund your deposit. We reserve the right to charge supplements where there are significant changes to an itinerary or increases in flight costs. Any non-package rates remain subject to change.
Dates

Wed 04 Sep 2019
to
Sun 08 Sep 2019

Enquire

Adults

£ 1,865

Single Adult

£ 2,095

Wed 02 Oct 2019
to
Sun 06 Oct 2019

Enquire

Adults

£ 1,675

Single Adult

£ 1,905

Wed 09 Oct 2019
to
Sun 13 Oct 2019

Enquire

Adults

£ 1,730

Single Adult

£ 1,960

Wed 16 Oct 2019
to
Sun 20 Oct 2019

Enquire

Adults

£ 1,675

Single Adult

£ 1,905

Wed 23 Oct 2019
to
Sun 27 Oct 2019

Enquire

Adults

£ 1,730

Single Adult

£ 1,960

Wed 30 Oct 2019
to
Sun 03 Nov 2019

Enquire

Adults

£ 1,675

Single Adult

£ 1,905

Wed 06 Nov 2019
to
Sun 10 Nov 2019

Enquire

Adults

£ 1,675

Single Adult

£ 1,905

Wed 13 Nov 2019
to
Sun 17 Nov 2019

Enquire

Adults

£ 1,730

Single Adult

£ 1,960
Terms
For our full booking terms and conditions please click here
Holiday group size (approximate)
Group sizes and minimum numbers
Most of our holidays require a minimum number of participants to operate. Minimum numbers are detailed on each holiday page and are always approximate. Group sizes for tailor made holidays will vary for each of the activities. For private departures you may also be joined by other guests during the activities unless you have discussed specific private activities with us.
If your selected date has not yet reached minimum numbers you will be informed at the time of booking. In the unlikely event that your chosen date has not reached the required minimum numbers nine weeks before your scheduled departure date we will contact you and discuss the various options available to you. We will always do all we can to operate a holiday and in some cases we may be able to operate the holiday by combining your itinerary with that of other guests for some activities (this may mean that the maximum group size is increased but this will be discussed in full with you).
If we are unable to operate the holiday then you will be offered the chance to transfer to an alternative holiday or date (subject to availability). If the alternative is more expensive you will be asked to pay the difference, if it is cheaper then you will be reimbursed. You will also be offered the option to cancel and receive a full refund of all monies paid.
See our booking conditions for further information.
Order of activities
The order of activities is always subject to change and you will be provided with your final itinerary upon arrival at your destination
Medical History and advice
If you or any member of your party is pregnant or has any medical condition or disability which may affect your holiday or has any special requirements as a result of any medical condition or disability (including any which affect the booking process), please tell us before you confirm your booking so that we can assist you in considering the suitability of the arrangements and/or making the booking. In any event, you must give us full details in writing at the time of booking and whenever any change in the condition or disability occurs. You must also promptly advise us if you become pregnant or any medical condition or disability which may affect your holiday develops after your booking has been confirmed.
See our booking conditions for further information.
Experience and fitness
We offer a vast choice of holidays which range from 'relaxed' to 'active' so there really is something for everyone and our holidays can be filtered by how active they are. Regardless of the chosen holiday, all activities will include tuition from a beginner's lever and no prior experience is assumed.
If you are unsure about the physical demands of a particular holiday please contact us and our expert team will be happy to help.
See our booking conditions for further information.
Guides and safety
It is absolutely essential when partaking in any activity that you listen very closely to, and abide by, the instructions provided.
If there is anything that you are unsure of during a safety briefing or that you would like to clarify with the guides please make this clear to them immediately before starting the activity.
Our guides' word on activities is always final and your safety is their principal concern at all times, please respect their decisions. By following their instructions, your safety and enjoyment during each activity will be greatly enhanced.
See our booking conditions for further information.
Booking activities locally
In almost all of our destinations you can book and pay for additional activities locally. Please note that we cannot be held responsible for any injury or loss that occurs through any activities that are booked in your destination (see our terms and conditions for further details).
Please always ensure that your safety is your primary concern when arranging any such activity.
Car Hire
If your trip includes car hire the named driver must have a credit card registered in their name which they can present when they collect their car along with their driving licence, as a deposit will be held on the credit card. Please see your trip dossier for full details.
Reviews
Traveller Reviews
I loved the trip to Menesjärvi
27 October 2017
by Carol and Donald Davin
I could not have had better hosts. The hotel was wonderful. Matias was superb as a guide. He really made the stay. The food was the best I had in Europe.
We plan to return and experience the winter!
08 September 2017
by Susan & David Pring
We enjoyed all of it! The nature walk, lunch and pancakes cooked outdoors, reindeer farm, Sámi cultural museum - and of course the Aurora.
---
---