Overview
Explore the best of Iceland in autumn and search for the Northern Lights by sea and on land. You will spend three nights on the Ocean Diamond, journeying to the peninsulas of Snaefellsnes and Westfjords, with a range of exciting excursions which can be added to your itinerary. The other three nights will be spent on land exploring highlights such as Lake Myvatn, Dettifoss waterfall and Thingvellir National Park.You will also enjoy a RIB whale and wildlife tour and a Northern Lights hunt by coach.
What's included?
ALL OF THE ACTIVITIES AND SERVICES LISTED BELOW ARE INCLUDED IN THE HOLIDAY PRICE
Accommodation: 3 nights on the MS Ocean Diamond (Cabin Type P – 'outside cabin with porthole' - upgrades available), 1 night in a hotel in Husavik, 1 night in a hotel in Western Iceland and 2 nights in a Reykjavik hotel (please see the 'Accommodation' section for examples)
Meals: 7 breakfasts, 5 lunches, 5 dinners
Transfers: return airport transfers and taxi transfer from Reykjavik hotel to city harbour
The following activities are included in the holiday: tour of Lake Mývatn, visit to Dimmuborgir lava formations and Skutustadir craters, Dettifoss Waterfall visit, RIB whale watching tour, Goðafoss waterfall visit, Deildartunguhver hot spring visit, visit to Hraunfossar Waterfall, Thingvellir National Park, Reykjavik city tour, Northern Lights coach tour (the order of activities is subject to change)
Fully qualified guides and instructors during activities
Expert-led cultural presentations, onboard entertainment and use of gym facilities on the Ocean Diamond
Tea, filter coffee, apple and orange juice and still water are included onboard the Ocean Diamond
Fully qualified guides during excursions
Please note: the itineraries and excursions are subject to change due to weather, sea, and ice conditions and may be changed without prior notice.
---
Combining three nights at sea and four nights on land, this holiday provides an all-round introduction to Iceland in the autumn. At this time of year, the long days of the Midnight Sun have made way for longer nights and Northern Lights, with the country painted in seasonal colours.
Following an evening in Iceland's charming capital of Reykjavik, you will travel on the Ms Ocean Diamond for the first half of the trip. This fine cruise ship will take you around Iceland's coast from the south-west to the north, stopping at the beautiful Snaefellsnes and Westfjords peninsulas. The first is commonly referred to as 'Iceland in miniature', with a wonderfully varied landscape; the second is one of the most secluded parts of the country and is truly off-the-beaten-track. In both locations, you will have the chance to add daytime excursions to your itinerary, including trips to the Snaefellsjökull Glacier and Dynjandi waterfall, kayaking, and a 'Viking Sushi Tour'. Please see the 'Personalise' section for more information.
Given your location offshore, you should be well placed to see Aurora displays during your nights at sea. Voyaging the Icelandic waters, you are also likely to spot different types of whales. Onboard the Ocean Diamond, we have included a series of fascinating presentations on both the Northern Lights and whales in this region, as well as subjects of local history and culture. In addition, the ship offers a full entertainment programme in its theatre-style auditorium.
Back onshore, you will spend three nights exploring Iceland's highlights, staying at an assortment of welcoming hotels. You will begin at the pristine Lake Myvatn before exploring the stunning lava formations of Dimmuborgir. Iceland has a number of picture-perfect waterfalls and our holiday includes a visit to Dettifoss, which is Europe's most powerful waterfall, and Goðafoss, which is believed to contain the statues of Norse Gods. Search for Iceland's marine life with a guided RIB wildlife and whale safari and enjoy a guided tour of the colourful city of Reykjavik. A Northern Lights hunt will bring a memorable end to this holiday, particularly if you are lucky enough to witness an Autumn Aurora display as these can be utterly breathtaking.
---
Image credit: Visitreyjavik.is, VisitIceland, VisitNorthIceland
View Gallery
Download Dossier
Key facts
| | |
| --- | --- |
| Duration: | 7 nights |
| Pace: | Relaxed |
| Suitable for: | Ages 18+. Please see our terms for further information |
Make an enquiry
Agenda
Accommodation
Included in price
---
Other options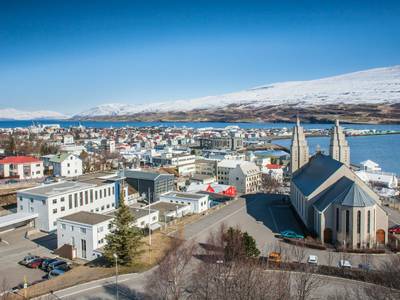 Hotel Sveinbjarnagerdi
Sveinbjarnargerði is a family owned hotel which is a 10-minute drive from Akureyri. The setting is fabulous, with stunning views of the Eyjafordur area, its mountains and the fjord itself. An outdoor terrace is the perfect spot to admire the countryside and during the dark autumn nights, you may even spot the Northern Lights.
The hotel contains a stylish in-house restaurant which has a cosy fireplace and a particular focus on traditional Icelandic cuisine. There is also a relaxation area which features a hot tub, ideal for those winter evenings.
Hotel facilities
A highlight of this hotel is the location and the views from the outdoor terrace are spectacular. During the autumn evenings, you may witness the Aurora dancing in the northern sky
The cosy restaurant has a fireplace and is ideal for an evening of relaxation after a day of exploration
There is something special about entering a hot tub, during an Arctic autumn evening. Enjoy the views from the hotel relaxation area
Room types
Double or twin room: the rooms at Sveinbjarnargerði are bright and cosy and the location ensures a fantastic outlook. Each room is equipped with a double, or two single beds, a flat-screen TV, a work desk, private bathroom, hairdryer and a seating area.
Read more
Read less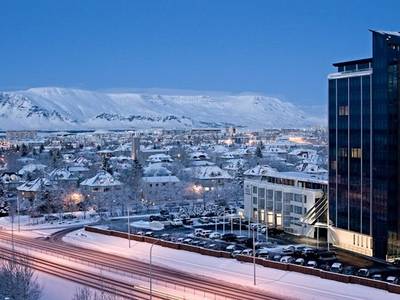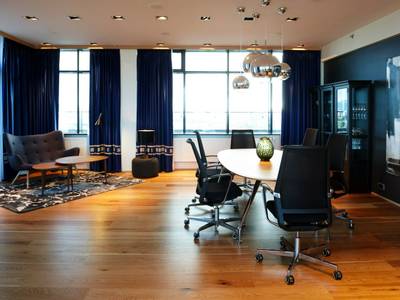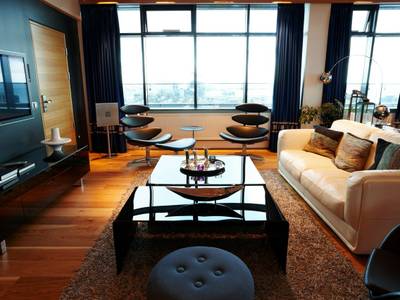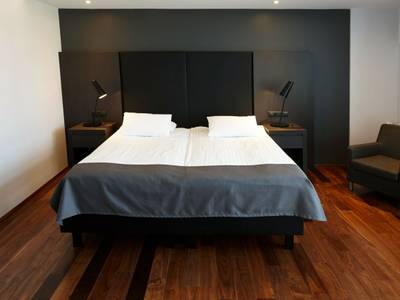 Grand Hotel Reykjavik (Day 7)
The four-star Reykjavik Grand Hotel is conveniently located in quiet surroundings, close to the city centre. The hotel has 311 rooms and provides excellent service and a wide range of facilities.
The hotel is equipped with a modern and elegant restaurant with a focus on Icelandic and Nordic cuisine. You can enjoy dinner made with fresh produce or simply relax with a drink by the cosy fireplace.
The Reykjavik Grand Hotel has a fully equipped gym which guests can use free of charge and extensive spa facilities. Guests are given a 20% discount on the spa admission fee.
Facilities
Take advantage of the hotel's excellent location and enjoy a stroll through Laugerdalur's Botanical Garden before heading into downtown Reykjavik.
Keep active and enjoy free use of the hotel gym.
Sample local Icelandic cuisine or enjoy a drink in the cosy hotel restaurant.
Enjoy the free Wi-fi service which is available throughout the hotel.
Room type
Superior double/twin room: Superior double rooms are both bright and spacious with hardwood flooring and large windows. The rooms are equipped with a comfortable queen size bed or two large single beds and a private bathroom with a shower and bathtub. A satellite TV, hairdryer, coffee and tea making facilities and free Wi-Fi access are all included.
Triple Room: Triple rooms are spacious and decorated with brand new furnishings. The rooms contain either three single beds or a double and a single bed. A private bathroom with a shower and bathtub is included and each triple room is equipped with a hairdryer, satellite TV, coffee and tea making facilities and free Wi-Fi access.
Read more
Read less
Personalise
Personalise this tour
---
Our pick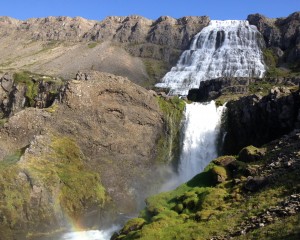 Þingeyri and Dynjandi Waterfall bus tour
Explore the secluded regions of Westfjords on this bus tour, which takes you to the little-populated town of Þingeyri, which holds the honour of being the region's first trading post. Following this, you will be taken to the impressive Dynjandi Waterfall, which is the highest waterfall in the region. It is appropriately named, as 'Dynjandi' is said to translate as 'thunderous'. Packed lunches are included.
Read more
Duration: 6 - 7 hours
Group size: 20 - 45 participants
Availability: Day 4
Price: 145 USD per person
Please note: clients pay for this excursion on board in USD.
---
Other options
Dates & Prices
Price Comparison Guarantee
Expertise and knowledge are key to witnessing the Northern Lights. We've been running Aurora hunting holidays longer than any company in the UK and with no lead in prices, no hidden costs and more included, we're confident our tours will come out on top.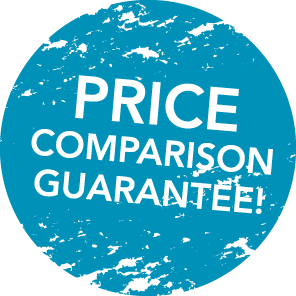 Price based on: 3 nights on the MS Ocean Diamond (Cabin Type P – 'outside cabin with porthole' - upgrades available), 1 night in a hotel in Husavik, 1 night in a hotel in Western Iceland and 2 nights in a Reykjavik hotel.
Prices
Next season's pre-sale dates and prices
To secure places for next season, you can make a provisional booking and fix the cost of your holiday at the provisional package price displayed online. Simply by paying a deposit, you will protect yourself from any package price increases. The departure dates and itineraries remain subject to change and we will contact you when the final dates and itineraries are confirmed. You will have 14 days to decide if you would like to go ahead. If you decide not to travel we will refund your deposit. We reserve the right to charge supplements where there are significant changes to an itinerary or increases in flight costs. Any non-package rates remain subject to change.
Dates

Fri 20 Sep 2019
to
Fri 27 Sep 2019

Enquire

Adults

£ 2,950
Terms
For our full booking terms and conditions please click here
Holiday group size (approximate)
Approximately 150-220 on board the ship
Group sizes and minimum numbers
Most of our holidays require a minimum number of participants to operate. Minimum numbers are detailed on each holiday page and are always approximate. Group sizes for tailor made holidays will vary for each of the activities. For private departures you may also be joined by other guests during the activities unless you have discussed specific private activities with us.
If your selected date has not yet reached minimum numbers you will be informed at the time of booking. In the unlikely event that your chosen date has not reached the required minimum numbers nine weeks before your scheduled departure date we will contact you and discuss the various options available to you. We will always do all we can to operate a holiday and in some cases we may be able to operate the holiday by combining your itinerary with that of other guests for some activities (this may mean that the maximum group size is increased but this will be discussed in full with you).
If we are unable to operate the holiday then you will be offered the chance to transfer to an alternative holiday or date (subject to availability). If the alternative is more expensive you will be asked to pay the difference, if it is cheaper then you will be reimbursed. You will also be offered the option to cancel and receive a full refund of all monies paid.
See our booking conditions for further information.
Order of activities
The order of activities is always subject to change and you will be provided with your final itinerary upon arrival at your destination
Medical History and advice
If you or any member of your party is pregnant or has any medical condition or disability which may affect your holiday or has any special requirements as a result of any medical condition or disability (including any which affect the booking process), please tell us before you confirm your booking so that we can assist you in considering the suitability of the arrangements and/or making the booking. In any event, you must give us full details in writing at the time of booking and whenever any change in the condition or disability occurs. You must also promptly advise us if you become pregnant or any medical condition or disability which may affect your holiday develops after your booking has been confirmed.
See our booking conditions for further information.
Experience and fitness
We offer a vast choice of holidays which range from 'relaxed' to 'active' so there really is something for everyone and our holidays can be filtered by how active they are. Regardless of the chosen holiday, all activities will include tuition from a beginner's lever and no prior experience is assumed.
If you are unsure about the physical demands of a particular holiday please contact us and our expert team will be happy to help.
See our booking conditions for further information.
Guides and safety
It is absolutely essential when partaking in any activity that you listen very closely to, and abide by, the instructions provided.
If there is anything that you are unsure of during a safety briefing or that you would like to clarify with the guides please make this clear to them immediately before starting the activity.
Our guides' word on activities is always final and your safety is their principal concern at all times, please respect their decisions. By following their instructions, your safety and enjoyment during each activity will be greatly enhanced.
See our booking conditions for further information.
Booking activities locally
In almost all of our destinations you can book and pay for additional activities locally. Please note that we cannot be held responsible for any injury or loss that occurs through any activities that are booked in your destination (see our terms and conditions for further details).
Please always ensure that your safety is your primary concern when arranging any such activity.
Car Hire
If your trip includes car hire the named driver must have a credit card registered in their name which they can present when they collect their car along with their driving licence, as a deposit will be held on the credit card. Please see your trip dossier for full details.
Payment and cancellation terms:
Please note that the following payment and cancellation terms supersede those mentioned in sections 2 and 6 of our general booking terms and conditions.
Payment terms:
A deposit of 20% of the total holiday cost is required at the time of booking. Full payment is required 90 days prior to departure.
Cancellation terms:
After booking and more than 62 days prior to departure = loss of deposit
61-43 days prior to departure = 30%
42-29 days prior to departure = 60%
28-15 days prior to departure = 90%
14 days or less prior departure = 100%
---
---