Overview
This region of Swedish Lapland offers some truly unique experiences and some exceptional Aurora viewing opportunities. During this four night holiday, you will enjoy a husky safari, hunt for the Northern Lights and be served gourmet food in a tepee. One of the real joys is, that following each activity, you can return to your own winter cottage and relax in private surroundings.
What's included?
ALL OF THE ACTIVITIES AND SERVICES LISTED BELOW ARE INCLUDED IN THE HOLIDAY PRICE
Transfers: return airport transfers from Luleå Airport
Accommodation: 4 nights accommodation in a winter cottage at Brändön Lodge
Meals: 4 breakfasts, 3 lunches, 4 dinners (2 courses)
The following activities and equipment are included: husky safari, dinner on ice experience, Northern Lights snowshoeing, Northern Lights hunt via snowmobile-pulled sled (the order of activities are subject to change)
Cold weather clothing for the duration of your stay
Services of our expert local guides
---
This superb four-night experience in Swedish Lapland offers guests an exciting and active insight into the unique Lulea Archipelago. The archipelago consists of over 3000 small islands which are encased in pack ice during the winter months.
Throughout this holiday, you will stay at the hospitable Brändön Lodge, in one of their cosy winter cottages. The lodge is situated on the frozen shoreline and is well known for its delightful log cabin style restaurant.
This balanced holiday showcases a variety of Lappish activities which give you the chance to really explore the area and the varied terrain it provides.
You will participate in a thrilling husky safari and get to experience this most traditional mode of transport; there is nothing quite like the thrill of guiding your own team of dogs across this spectacular wilderness.
Read more
Another real highlight of this holiday is the 'dinner on ice' experience which is a magical way to spend an evening.
After darkness falls the focus switches to the all-important Northern Lights and you will participate in two dedicated hunts for the Aurora with your expert guides. A snowmobile-pulled sleigh ride will lead you on your quest during one evening and you will then travel under your own steam during a snowshoe hike in search of a display. This is a region which enjoys frequent displays of the Northern Lights and so if conditions are conducive to a display you are in a prime location.
Image credit: Graeme Richardson
View Gallery
COM_ZENHOLIDAYS_TEXT_DOSSIER_DOWNLOAD_SUMMARY
Download Dossier
Key facts
| | |
| --- | --- |
| Duration: | 4 nights |
| Pace: | Balanced |
| Suitable for: | Ages 15+. See our terms for further information |
Make an enquiry
Agenda
Accommodation
Included in price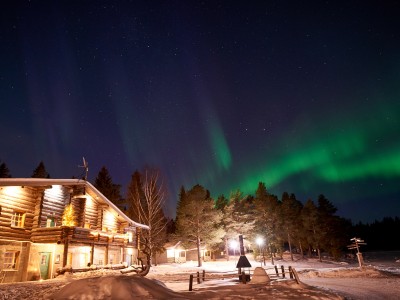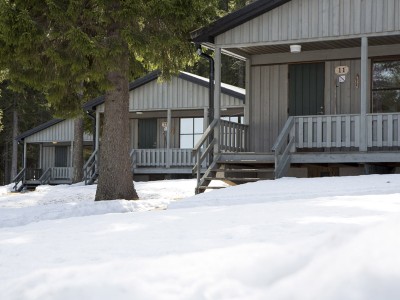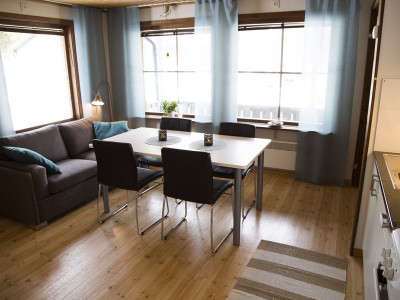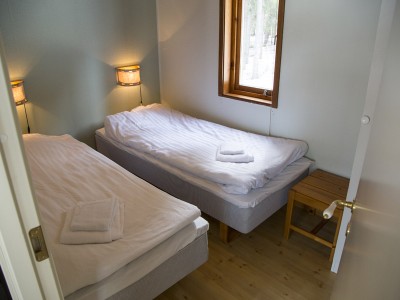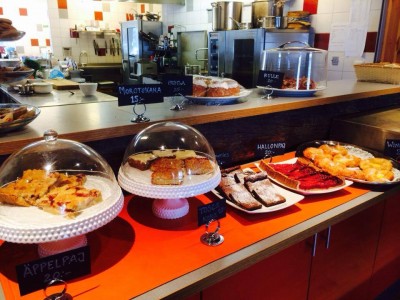 Brändön Lodge
Nights:
1-4
Brändön Lodge is located on the edge of the sea that freezes around the Luleå Archipelago each year. It is a remarkable sight to see such a vast frozen mass of water each morning as you step out of your cosy cottage for a day of activities.
Hotel facilities
Your meals are all served in the restaurant in the main building. You will enjoy a variety of local dishes and more international cuisine in the evening menus (which are typically two courses and served as a hearty buffet). Breakfasts are typically Scandinavian in style and provide you with the fuel that you need for a day of adventure
The restaurant is situated on the upper floor of the main hotel building and offers panoramic views over the frozen bay while you tuck into your delicious meal. The lodge also has a fully stocked bar and pretty impressive wine cellar for any enthusiasts staying
A short walk from the restaurant building, there is also a sauna for guests to enjoy. Indulging in a sauna, after an exhilarating day in the great outdoors is just the perfect way to unwind! This is bookable locally and charges may apply
Guest room types
Winter cottages: Brändön Lodge consists of individual winter cottages. Each homely cottage is detached, allowing guests the space to unwind and relax in comfort and having all the added benefits of the main building within walking distance.
All the winter cottages have an open plan living and dining area with kitchenette. We recommend taking tea and coffee provisions with you. They have two bedrooms (both furnished with twin beds – in some cases these can be moved together), an en suite shower room, hairdryer and toilet. Recent room refurbishment leaves the cottages with a modern yet authentic Scandanavian feel. One of the nicest features of the cottages are the terraces, where in the morning you can step out and inhale the cool, crisp air and marvel at the view of the frozen sea and snow-covered forests that stretch before you.
---
Image credit: Graeme Richardson
Read more
Read less
Personalise
Personalise this tour
---
Our pick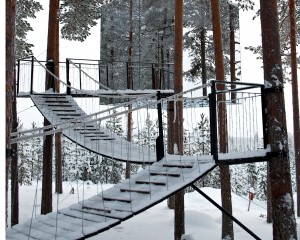 The Treehotel is unique and surreal. We can arrange for you to spend the night amidst the treetops of Swedish Lapland in one of the most inventive bedrooms on the planet. It is an experience, unlike any other and one that we don't feel that you should miss. Each of the six architect-designed rooms is cutting edge.
Read more
The bedroom options include The UFO, Mirror Cube, Bird's Nest, Blue Cone and The Cabin. Each room is spectacular in its own right and totally unique and no matter which option you choose you will experience an unforgettable night. It is possible to upgrade to a night in The Dragonfly or the 7th Room - please ask if you would like a quote for this option.
Your stay includes lunch, dinner and breakfast at Britta's Guesthouse which is around a 10-minute walk from the tree rooms. This is a characterful and quirky place to dine, in contrast with the ultra modern Treehotel, with old world charm and hearty home cooking.
This is exclusive accommodation as there are only six rooms, so we recommend booking as soon as possible to avoid disappointment.
In the morning after your breakfast, your transfers will be arranged to take you back to the airport for your return flights home.
Please contact us for a full quotation based on your transfer and rooming requirements.
©Graeme Richardson
---
Other options
Activities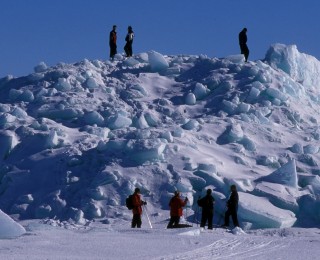 Snowmobile safari on the pack ice
From: £185pp
On day three of your holiday, you will have the chance to participate in a thrilling snowmobile safari out on the pack ice.
Read more about this activity
Your destination for the day will be the village of Brändöskär on the outermost archipelago, an idyllic fishing hamlet dating back to the 17th century. To get here you will snowmobile across the frozen Bothnian Bay, an endless vista of pack ice and snow, which makes for a spectacular journey. Once you have reached your destination you will visit the chapel and fishing huts before a warming lunch that your guide will cook over an open fire. You will be out for around four hours in total. You will travel two people per snowmobile and will be able to swap drivers during the trip. You must be over 18 years old and hold a full driving licence to drive a snowmobile.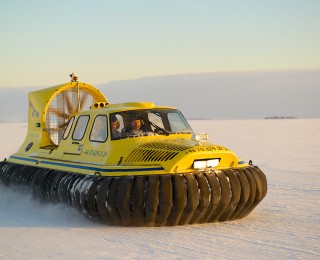 Hovercraft excursion
From: £194pp
This region is the only place we feature where guests can explore the wilds in a hovercraft. These machines perfectly suit the ever changing seasons here and are exceptionally good fun.
You will each be given an intercom headset in order for the pilot to be able to communicate with you and impart his local knowledge.
Read more about this activity
During this two and a half hour tour, you will set off across the ice and islands and head out to the island of Brändöskär which is typically close to the edge of the frozen sea. You will disembark and take a walk on the ice where depending on the weather conditions, you may witness some of the vast natural sculptures which form as the pack ice gradually shifts and cracks.
A light lunch is included and you will be served warm drinks before returning to the lodge.
Image credit: Graeme Richardson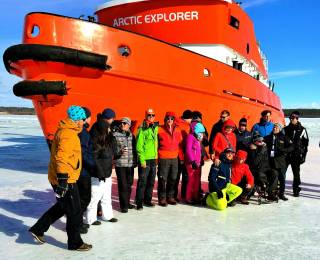 The frozen sea is a sight to behold. A vast, thick sheet of shimmering white, stretching out far into the distance, it is hard to believe that the ocean lies below. The ship then cuts through the ice with apparent ease and suddenly the water is revealed. Shards of Ice surround the boat and you would be forgiven for wondering whether you are on an expedition to Antarctica. The title of the ship 'Arctic explorer' conjures up images of historic voyages and when you get out onto the open ocean it is difficult not to feel a sense of adventure.
Read more about this activity
You will take a 35-minute transfer to Luleå from your accommodation at Brändön Lodge or Pinebay Lodge, before picking up a second transfer from Luleå to Piteå, which takes approximately 50 minutes. Following an introduction and safety briefing by the ship's captain, the journey will begin in Pitsundskanalen, which is where the mouth of the river Piteälven meets the open sea. A mere 100 yards ahead of this point, the ocean opens out and there is a seemingly endless display of ice, which is easily broken by the 'Arctic Explorer'. The ship leaves a trail of ocean behind and this makes it possible to bathe in the freezing water.
You will be given survival suits which will provide protection from the cold and also prevents you from getting wet. Following this, you will have the opportunity to float on the water. It is an invigorating experience, and when you are lowered into the ocean you may have feelings of trepidation, but this soon replaced by delight. You can also experience walking upon the thick Ice of the frozen sea, which is a surreal experience, particularly if you imagine the contrast of a summer's day, where the water is flowing freely.
The cruise will last for approximately 2 hours. A hot drink and survival suits are included.
Little Extras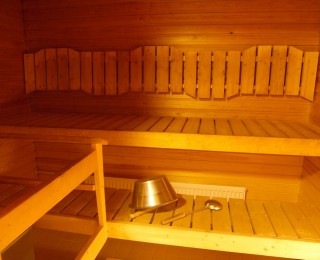 Hot tub and sauna
During your stay at Brändön Lodge, you will have the option to relax in the hot tub and sauna. Both of these are just a short walk from the lodge and they sit on the edge of the frozen sea. The hot tub and sauna are rented for private use together, so you can use each of them as you like. If you would like to include this, please contact one of our Travel Experts who will be able to provide you with a full quote for your needs.
Trip Extensions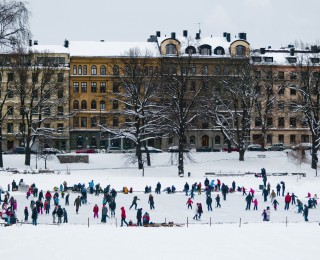 Stockholm City break
With our trips to Swedish Lapland primarily connecting through Stockholm, guests have the perfect excuse to stop for a night and enjoy this wonderful capital city.
Frequently described as one of the most beautiful cities in the world, the cityscape is unparalleled and consists of 14 islands and islets that are connected by over 50 bridges.
Read more about this activity
The bright elegance of the city is a combination of its old town (Gamla Stan) with its narrow medieval alleyways and sturdy cobbled streets, its harbourside locations, and its central metropolis complete with bustling commercial heart.
Accommodation is varied and plentiful in the city and we can arrange accommodation of all styles and to suit all budgets so please contact our Travel Experts for their recommendations and suggestions on where to stay.
There is much to enjoy here. For a taste of history and culture guests can visit the Nobel Prize Museum which showcases previous recipients or visit Drottningham Palace, the grand homestead of the Swedish Royal family. The UNESCO-listed Woodland Cemetery (Skogskyrkogården) is also a recommended architectural attraction as is the island of Bjorko which is an important trading centre dating back to the Viking era.
Stockholm is an easy city to walk around and relax in, with over 30% made up of waterways and another 30% made up of green spaces. The city also has remarkably efficient public transport – the Metro which opened in 1950 is well known for its decorated stations and is often referred to as the longest art gallery in the world.
When it comes to food and drink, visitors can sample traditional Swedish food (Husmanskost) such as meatballs and reindeer but can also sample some of the modern trends of nouveau Nordic cuisine featured in several unique restaurants throughout the capital.
This is a vibrant capital city and it is well worth dedicating some time to enjoying all it has to offer.
Image credit: Helena Wahlman & imagebank.sweden. se
Dates & Prices
Price Comparison Guarantee
Expertise and knowledge are key to witnessing the Northern Lights. We've been running Aurora hunting holidays longer than any company in the UK and with no lead in prices, no hidden costs and more included, we're confident our tours will come out on top.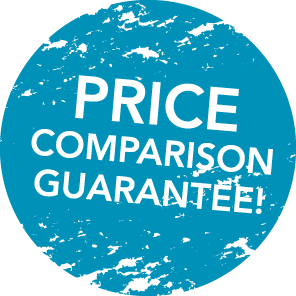 Please note: Alternative departure dates can be arranged, please contact our travel experts for further details.
Flight information: Flights are not included in the holiday price so that the best possible fares and schedule can be found at the time of booking. Both low cost and scheduled airlines serve Luleå Airport and our travel experts will happily provide a quotation and arrange the flights as part of the package.
Single adult price: Based on the single use of a cabin, but sharing transfers and husky sled.
Prices
Next season's pre-sale dates and prices
To secure places for next season, you can make a provisional booking and fix the cost of your holiday at the provisional package price displayed online. Simply by paying a deposit, you will protect yourself from any package price increases. The departure dates and itineraries remain subject to change and we will contact you when the final dates and itineraries are confirmed. You will have 14 days to decide if you would like to go ahead. If you decide not to travel we will refund your deposit. We reserve the right to charge supplements where there are significant changes to an itinerary or increases in flight costs. Any non-package rates remain subject to change.
Dates

Thu 09 Jan 2020
to
Mon 13 Jan 2020

Enquire

Adults

£ 1,515

Single Adult

£ 2,000

Thu 16 Jan 2020
to
Mon 20 Jan 2020

Enquire

Adults

£ 1,515

Single Adult

£ 2,000

Thu 23 Jan 2020
to
Mon 27 Jan 2020

Enquire

Adults

£ 1,515

Single Adult

£ 2,000

Thu 30 Jan 2020
to
Mon 03 Feb 2020

Enquire

Adults

£ 1,515

Single Adult

£ 2,000

Thu 06 Feb 2020
to
Mon 10 Feb 2020

Enquire

Adults

£ 1,515

Single Adult

£ 2,000
Terms
For our full booking terms and conditions please click here
The Specifics
---
---