Abisko
Abisko sits in a vast bowl of hills which, along with the prevailing winds, combine to break up the cloud cover. Clear skies are key to Aurora hunting so it's little wonder that Abisko is considered one of THE top Northern Lights destinations.
About
It's often said – wrongly in our opinion – that a full moon is the Aurora hunter's worst enemy but in reality, if you have blanket cloud cover, you simply will not see the lights. Hence, anywhere situated within the Auroral zone and with a record of clear skies is likely to deliver regular displays of celestial lights.
The small town of Abisko is nestled quietly in a vast bowl of hills and mountains which, when combined with the prevailing winds, combine to create some of Northern Scandinavia's most cloud-free skies. It just so happens that Abisko also sits slap, bang in the middle of Europe's Auroral zone and it is no coincidence that it has become hugely popular with Northern Lights enthusiasts.
Abisko is essentially a train stop between Kiruna and Narvik and even though Aurora hunting has brought more tourists in recent times, there are still very few accommodation choices. We teamed up with Dick and Mina at the Abisko Mountain Lodge almost a decade ago because we love the ambience of their small hotel as well as the warm hospitality and the excellent restaurant. The rooms aren't the largest in the world but, what it lacks in size, it certainly makes up for in terms of ambience. For us, it is the very best place to base yourself when Aurora hunting in Swedish Lapland.

Speak to our Aurora Experts
01670 785012
Autumnal equinox
Autumn is overlooked as a time to go Aurora hunting but, it is easily as rewarding as any other time of year. An added bonus is that the lights are very often reflected in the lakes which are yet to freeze over. You can see it on our video here.
The weeks around the autumnal equinox bring greater solar activity which is the cause of the Northern Lights. It is also far warmer than the winter months and to explore the colours of the Abisko National Park by day and the dark northern skies by night is a great way to spend time in a lovely part of the world.
When winter arrives the landscapes are blanketed in snow but the night sky remains pretty much the same; dark with regular visits from the Aurora Borealis.
We feature two winter trips at Abisko.
The first allows you to design your own holiday by adding in the activities you want to do during the day and the Aurora hunts you prefer at night. You can also extend your stay and enjoy a night at the Tree Hotel and/or the IceHotel. Both can be combined into our tailor made Absiko holidays.
Our Ultimate Aurora Adventure does what exactly what it says on the tin. We've included the Tree Hotel, the IceHotel, four Northern Lights hunts from Abisko and exciting Arctic activities such as dog sledding. It's bucket list stuff.
Aurora hunting
We regularly visit our featured destinations and there's always a bit of a scrap when an Abisko trip is due. Some of us want to go for the stunningly expansive wilderness landscapes, others for the fabulous food at the Abisko Mountain Lodge but there is, of course, one common denominator, the Northern Lights.
Regardless of whether you travel in autumn or winter, Abisko's National Park boasts some of the least cloudy skies in Northern Scandinavia which makes it so enticing to Aurora hunters.
There are many exciting ways of searching for the Aurora in Abisko. A particular favourite with us is to hit the road in a minibus. This allows you to visit some different vantage points and experience real darkness away from any artificial light pollution.
Another favourite is to go snowshoeing up the hill behind the Mountain Lodge. It can be a fairly energetic undertaking but the views of the Arctic firmament are unsurpassed. Should the lights choose to dance while you are there then you are in for a treat.
There's even more to this remote area than the Northern Lights. The IceHotel is a major draw and a visit or an overnight stay is pretty much obligatory. The work that goes into creating this monument to snow and ice architecture is incredible and the results are spellbinding. Quite simply, it is another of those "must-do" experiences.

---
Image credits: Chad Blakley and Lightsoverlapland
Read more
Read less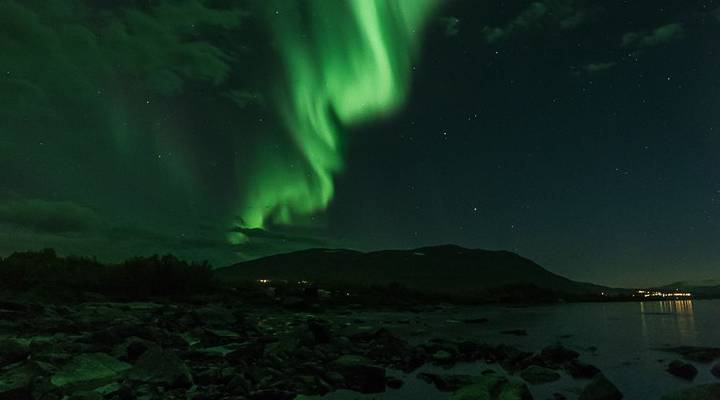 Holidays
Accommodation