Greenland
Perhaps it might have been named Green 'sky' to reflect the swirling, coloured lights that regularly dance above the island.
About
The key to Aurora hunting is to find dark skies, far removed from significant centres of population and their associated light pollution. Where better for Aurora hunting holidays than the world's most sparsely populated yet largest island; Greenland?
Whilst other areas of the Arctic have become more accessible and comparatively well known, Greenland's name still conjures up images of intrepid adventure and wilderness. It is an Aurora hunting frontier that we are thrilled to be offering to our guests.
Greenland offers exceptional Aurora potential and more recently, additional infrastructure for activities has started to appear. But rest assured, whilst Greenland is open to tourists, it is not yet changing for tourists, which simply adds to the attraction in our opinion.
This gigantic island is actually a tad whiter than its name would suggest. The snow covers the land during the winter months and the country is home to an ice cap of almost unimaginable scale.
The dark night skies here are an Aurora hunter's dream and during the day there is no shortage of natural sights to enjoy either. With ice fjords, ice caps and some serious wilderness to explore, this is a place that delivers wildernesses on many, many levels.

Speak to our Aurora Experts
01670 785012
Cultural Diversity
It is incredible to think that Greenland is so big that its southern tip is on the same latitude as Oslo and its most northerly is only 400 miles from the North Pole! Thankfully though, the way that the Auroral curve heads from east to west means that Greenland is smack in the Aurora Zone.
Surrounded by sea and with an ice cap which is up to 3km thick in parts and covers the majority of its land mass, the island experiences varied weather. Our holiday runs from February to March when the darkest months are behind and the snow cover is more reliable. The two main destinations we feature are Ilulissat and Kangerlussuaq where temperatures in the winter months tend to average around -14 degrees Celsius.
Whilst Greenland's latitudinal reach may be vast, its longitude is what makes it such a fascinating place culturally. Sitting between Canada and Europe the cultural influences have created a rich and varied nation with Canadian, Danish and Inuit influences. Traditional Greenlandic values remain at the centre of the society here though.
The diversity is clear when you look at a restaurant menu. Seafood is a staple which is not surprising, but the likes of marine mammals such as seal and whale as well as reindeer, musk ox and seabirds also feature widely. You'll also most likely use real fur and sealskin clothing during some of the activities as this is predominantly what is used locally.
Untamed Aurora Hunting
We offer an epic holiday to Greenland which combines the regions of Kangerlussuaq and Ilulissatt. Both of these destinations are in prime Aurora territory on the west of the island.
When translated, Ilulissat means iceberg and so there is little disguising the main attraction of this destination; the Ilulissat Ice Fjord, a UNESCO world heritage site.
At night you can hunt the Aurora very successfully on foot, as getting away from the lights takes so little time. We also offer the chance to try Aurora snowmobiling as this is one of the most spectacular destinations in which to hit the trails after dark.
Kangerlussuaq has a population of around 500 people, large for Greenland but still providing incredible Aurora viewing potential. It is famed for its clear skies and friendly community.
During the day, the natural world and the awe-inspiring ice cap take precedence, but at night the Northern Lights take centre stage once again.
Aurora hunts take place primarily on foot; the record of sightings is so good that the lights are often visible right in the village. Your expert local guide will lead the walk each night and will take you to the locals' favourite vantage points. All the while you'll have the chance to ask your guide about the natural world, culture and Aurora.
---
Image credits: Visit Greenland Mads Pihl, Rebecca Gustafsson, Paul Zizka and Stain Klo, AS and Thomas Nørby Mogensen and Dennis Ingemann
Read more
Read less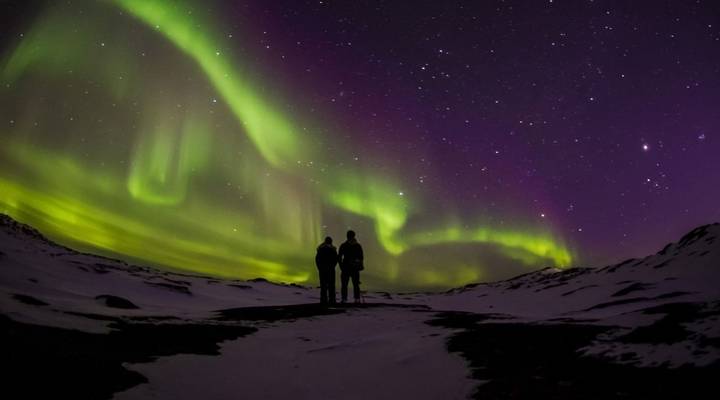 Holidays
Accommodation