Christmas Northern Lights
Christmas in Lapland
Lapland and Christmas have long been synonymous and not just because of it being the all-important home of Father Christmas. Indeed everything about Lapland looks like it belongs on a Christmas card – from the crisp white snow and star-filled sky to the images of reindeer, log cabins and frosted trees.
Our Christmas Northern Lights experiences at The Aurora Zone have been designed to take you into the very heart of this winter scenery and embrace everything a Lappish festive season entails, from delicious specialty food to trying your hand at popular activities such as husky sledding, snowmobiling and cross-country skiing. Of course we keep you well away from the Santa crowds, meaning that you get to see Lapland at its festive best.
So why not escape the usual Christmas stresses and say goodbye to last minute present buying, busy roads and too much food and drink, by booking one of our wonderful Christmas experiences? Of course, Christmas is a busy time in Lapland, but our trips take you to some remote and spectacular landscapes where the festivities are genuine and small scale.
About Christmas Northern Lights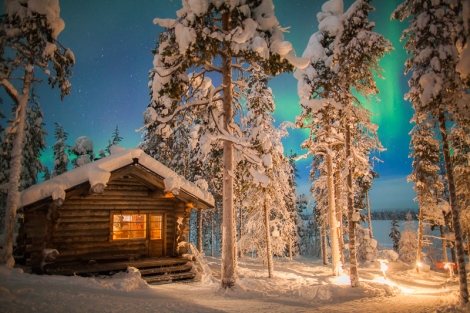 A Christmas filled with activity….
Whilst you should, of course, find some time to relax during your festive break we know that most people will want to really make the most of their time here in Lapland and we have a range of exhilarating trips that take full advantage of the Arctic playground that winter brings to this region.
The deep layer of snow in Lapland is in no way comparable to the grey slush we get here in the UK, and the locals really do make the most of these conditions – playing in the snow on cross-country skis, snowmobiles, snowshoes and husky sleds.
One of our most popular trips is our Aurora in the Wild holiday to Nellim in Finland over Christmas, which delightfully combines festive celebrations with some of the region's most beloved pursuits including snowshoeing, snowmobiling, and husky safaris.
There will also be the all important Aurora hunts that will hopefully lead to a successful viewing of the shimmering, dancing display.
Read more
…Or relaxation
Whilst the snow covered scenery of a Lappish Christmas does tempt you out on sleds and skis, it also makes curling up in front of the fire with a hot drink and watching the snow fall by the window seem hugely appealing too. With this in mind we also offer a range of relaxed Christmas trips too!
These include our welcoming trips to Luosto which, whilst including a taste of some of the Arctic's most beloved activities, also allow plenty of opportunities to relax, enjoy a spa or sauna or simply gaze upon the wonderful scenery outside.
Regardless of how active they are, our trips do everything they can to help you seek out the spectacular sight of the Aurora with evening pursuits to vantage points where the sky will hopefully dance above you.
Christmas is a time of festivity, joy and excitement and a trip to Lapland will offer all of this and more.